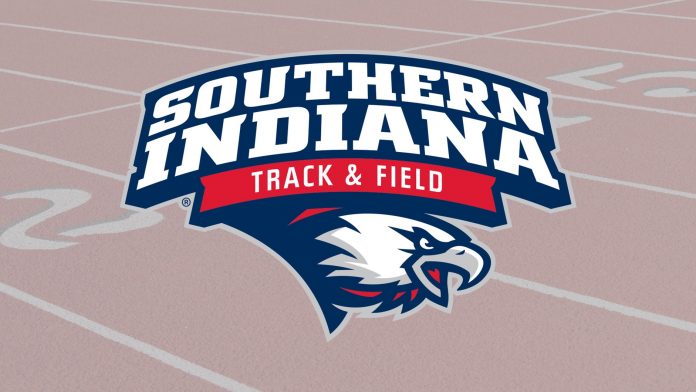 LOUISVILLE, Ky.—Junior McKenna Cavanaugh (New Albany, Indiana) scored a first-place finish in the 1,500 meters to lead University of Southern Indiana Women's Track & Field to a sixth-place finish at the Jim Vargo Invitational Friday.
 
Cavanaugh finished the race in four minutes, 39.79 seconds as the Screaming Eagles opened their outdoor schedule with a dominating effort in the 1,500 meters.
 
Freshman Emily Rempe (Owensboro, Kentucky) and junior Audrey Comastri (Indianapolis, Indiana) were second and third, respectively, in the 1,500 meters as the Eagles had four of the top nine finishers in the event.
 
The Eagles were aided by the efforts of senior Kara Martin (Herrin, Illinois), who was third in the 800 meters with a time of 2:24.30.
 
Senior Gabrielle McGregor (Louisville, Kentucky) was fifth in the shot put and sixth in the discus, while junior Olivia Clark (Newburgh, Indiana) was fifth in the 200 meters to round out the scoring efforts for USI, which finished with 41 points.
 
USI returns to action March 31-April 1 when it competes at the WashU Invitational in St. Louis as well as the Joey Haines Invite in Cape Girardeau, Missouri.