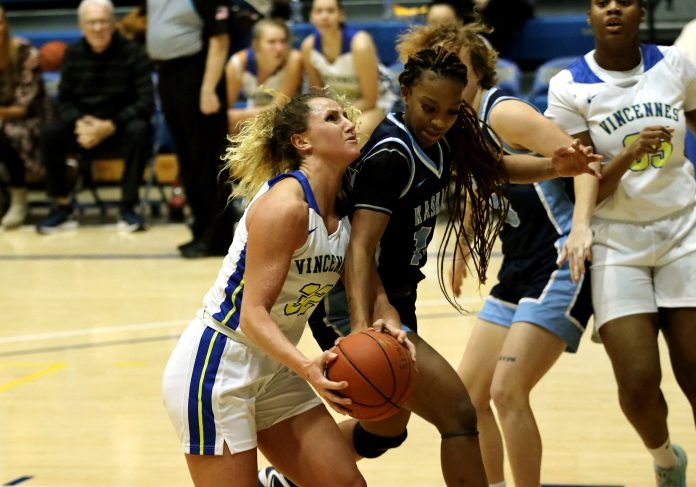 VINCENNES, Ind. – The Vincennes University Lady Trailblazers are again battling injuries, leaving Hall of Fame Head Coach Harry Meeks with just eight active players Saturday afternoon.
The Lady Blazers battled a tough back-and-forth game against the Blue Angels of Kaskaskia College, using a late fourth quarter scoring burst to pick up the 75-69 Region 24 win.
VU got off to a slow start Saturday afternoon, quickly falling behind 8-2, before rallying back to tie the game at 10-10.
The Blazers would put together an 8-2 scoring run of their own to close out the first quarter of play, ending the first 10 minutes of action with a 21-19 advantage.
Vincennes grabbed a five-point lead early in the second quarter before the Blue Angels responded back to outscore VU 16-2 to take a 38-29 lead.
VU would cut the deficit before halftime however, heading into the midway break trailing 40-37 on the home floor.
The Lady Blazers looked determined coming out of the locker room and battled in a back-and-forth third quarter.
The score was tied four times and the lead changed hands three times in the third quarter alone before Kaskaskia hit a buzzer beater to take a 60-58 lead into the final quarter.
Vincennes looked to completely swing the momentum of the game in the fourth quarter, evening the score at 64-64 with just under 6:30 on the clock, before taking the lead with a free throw and never looking back.
The Lady Blazers outscored the Blue Angels 10-3 down the stretch of the game and held Kaskaskia to just nine fourth quarter points as VU came away with the 75-69 win over the Blue Angels.
"We were able to win this game by being tenacious and playing hard," VU Hall of Fame Head Coach Harry Meeks said. "I looked out at the floor one time and we had all five girls playing out of position. All I can say is that that was a really gutsy effort. Our girls played hard. That's what we are going to have to have late in the this season."
"All of our girls really stepped up today," Meeks added. "They played and played extra minutes than normal and I can only say that it was a great win for us given the situation that we were in. That's really difficult to coach your way out of and our girls played their way out of it. That was the most important thing to me. They didn't give up. I had to get after them a couple of times for just doing things that are not conducive to winning but they hung in there and played. They did a really good job late in the game. We played a zone defense for most of the game, but with about six minutes left we switched to a man defense. Once we did that, they did a really good job finishing the game."
VU was led offensively by sophomore Daylynn Thornton (Lafayette, Ind.) who ended her day with 18 points a career-high eight assists and a team-high two steals.
Freshman Elikya Baseyila (Paris, France) polished off her seventh double-double this season after battling foul trouble in the first half. Baseyila came away with 14 points and 17 rebounds, while also leading VU with three blocks.
Freshman Brie Miller (Greencastle, Ind.) had the best game of her collegiate career so far Saturday, picking up her first career double-double and setting new career-highs with 13 points and 11 rebounds. Miller also dished out three assists and came away with two steals.
Sophomore Nyre Williams (Indianapolis, Ind.) came off the bench to add 11 points and six rebounds to the VU totals, while freshman Maycee Lange (Vincennes, Ind.) was the fifth VU scorer in double-figures with 10 points and four rebounds.
Sophomore Cherrelle Newsom (Indianapolis, Ind.) struggled to find open space to shoot all day long, but still nearly came away with a double-double, ending with nine points and matching Thornton's team-high eight assists, setting a new career-high.