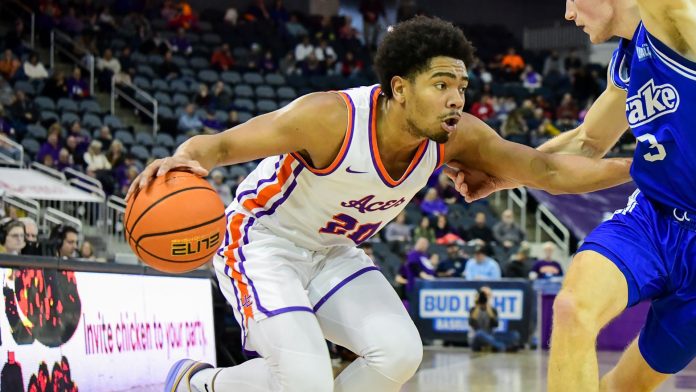 Aces drop 97-61 contest to Bulldogs
 EVANSVILLE, Ind. – Scoring 55 points in the first half, Drake pulled away in the final 20 minutes to defeat the University of Evansville men's basketball team by a score of 97-61 on Saturday afternoon inside the Ford Center.
After shooting 66.7% in the first half, the Bulldogs finished the game at 56.7%.  Evansville had four players score in double figures with Kenny Strawbridge Jr. and Yacine Toumi recording 12 apiece while Antoine Smith Jr. and Marvin Coleman II each chipped in 11.  Gabe Spinelli added 9 points and a team-high five rebounds.  Tucker DeVries led all players with 23 points while Darnell Brodie added 17.  Roman Penn had an unbelievable 18 assists while scoring 13.
"First and foremost, Drake is a very good team.  They were able to get just about everything offensively that they got.  If they play like that, it will be hard for anybody to beat them," UE head coach David Ragland stated.  "We moved at a good pace offensively in the first half but we could not sustain it."
Drake reeled off the first seven points of the game to force a time out by Evansville.  The Aces regrouped and went on a 14-2 run to take a 14-9 lead.  Antoine Smith Jr. got his team on the board with a triple before hitting a runner to make it a 9-5 score.  Three consecutive triples by Gabe Spinelli, Smith and Marvin Coleman II put UE in front as the team hit five out of six shots during the stretch.
With the Aces in front, the Bulldogs stormed back.  Going on a 18-2 run, the Bulldogs retook the lead at 27-16 as they capped the run off scoring 11 in a row.  With the half moving under 10 minutes remaining, Chris Moncrief and Yacine Toumi recorded field goals to trim the deficit back down to seven.
Shots continued to fall for the Bulldogs, who shot 66.7% in the opening stanza.  Connecting on nine of their final ten attempts, Drake led by a 55-34 margin at halftime.  Equally impressive in the opening 20 minutes was their 8-for-12 performance from long range.  UE converted six of its 12 attempts from 3-point range in the period.
Evansville posted the first two baskets of the second half but it was Drake with the big run, scoring nine in a row and 12 of the next 14 to take a 67-40 advantage.  Up 73-50, the Bulldogs scored the next nine to push their lead to 82-50.  The final score of 97-61 matched their largest margin of the game.
Another home game is coming up Wednesday when the Aces welcome Belmont for a 7 p.m. tip.