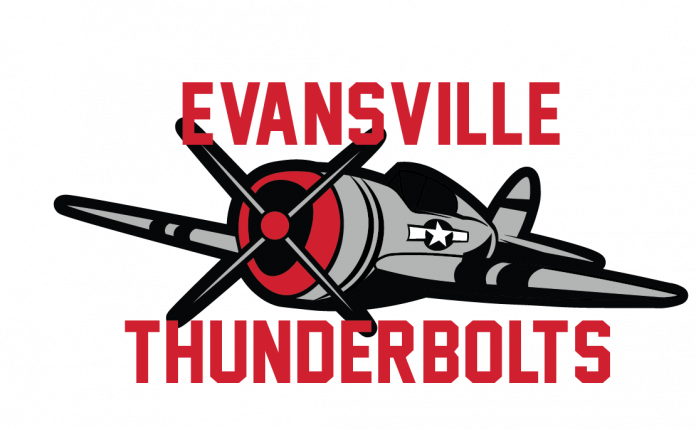 Knoxville, Tn.:  The Thunderbolts did a lot of good things against the Ice Bears in a game that was tied 2-2 up until the later stages, however penalty trouble would haunt the Thunderbolts as the Ice Bears scored a pair of late goals to defeat Evansville 4-2 on Saturday night in Knoxville.  The Thunderbolts' next home game will be on Sunday, January 22nd against the Huntsville Havoc at 3:00pm CT.  For tickets, call (812)422-BOLT (2658), go to EvansvilleThunderbolts.com, or visit the Ford Center Ticket Office.
The Thunderbolts biggest success came early, as they grabbed an early lead off a goal from Andrew Shewfelt at 2:23 assisted by Mathieu Cloutier.  The Ice Bears tied it with a goal from Dean Balsamo at 4:02, before Brendan Harrogate scored an unassisted goal only 52 seconds later at 4:54 to give Evansville a second lead, 2-1. That lead lasted through most of the second period, until Cameron Hough tied the game again at 15:15.  Early in the third period, the Ice Bears were awarded a penalty shot, however goaltender Zane Steeves forced Cole McKechney to shoot high and wide, keeping it tied.  A pair of penalties at the same time of 13:23 put Knoxville up 5-on-3, and they would score to take the lead on a goal from Rourke Russell with 5:34 remaining in regulation, followed up by another goal from Nick Pryce with 4:07 remaining to seal the 4-2 loss.
                Shewfelt and Harrogate scored one goal each, while Steeves stopped 30 of 34 shots faced in goal. These two teams meet again on March 16th at Ford Center.