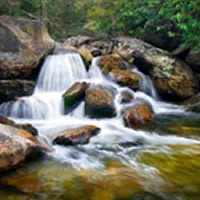 Obituary for Mary (Stallings) McCormick
Mary (Stallings) McCormick, 87, of Evansville passed away peacefully Monday, September 9, 2019 at her home surrounded by her family. She was born October 20, 1931 in Gary, IN to the late Lincoln and Mary (Fettig) John.
Mary graduated from St. Elizabeth Nursing School in Lafayette, IN. After graduation, she worked in surgery at Riley Hospital in Indianapolis. She was a former member of Holy Rosary Catholic Church, St. Mary's Catholic Church and presently is a member of St. Benedict Cathedral. Mary was a member of St. Mary's Hospital Auxiliary, the Evansville Country Club for over 60 years where she was an avid golfer and President of the women's 18 holers. Mary enjoyed tennis, bridge, gardening, was a member of the Historic Lincolnshire Garden Club, and a volunteer at the Ronald McDonald House.
Mary is survived by her husband of 35 years, Russ McCormick; sons, J. Gregg Stallings (John Broomfield) of Sharon, CT and Todd (Susan) Stallings of Silver Spring, MD; daughters, Amy (Dan) Glover, Zionsville, IN, Darcy (Mike) Winslow, Portland, OR. Lesly (Pete) Wagner, Guilford, CT, and Betsy Stallings McAtee, Louisville, KY; grandchildren, Bryan Young, Ben Glover, Rachel, David and Grace Wagner, Ethan, Carson, and Chase Stallings, Claire, Jeffrey and Andrew McAtee; great grandchildren, Cody and Levi Young; sister, Becky Tyner and brother, Edward John, both of Elwood, IN; and Russ's son, Michael McCormick of Speedway, IN.
In addition to her parents, Mary is preceded by her first husband, Dr. Hugh Stallings and son, Jeff Stallings.
Visitation will be from 3:00 pm to 7:00 pm Friday, September 13, 2019 at Ziemer Funeral Home East Chapel, 800 S. Hebron Ave., Evansville, 47714. Visitation will continue from 9:30 am to 10:00 am Saturday, September 14, 2019 at Holy Rosary Catholic Church, 1301 S. Green River Rd., Evansville, 47714. A mass of Christian Burial will begin at 10:00 am at the church with Father Stephen Lintzenich officiating. Inurnment at St. Joseph Mausoleum.
The family would like to thank Horizon Personal Care, especially Crystal Kaiser, and Heritage Hospice for their loving care.
Memorial Contributions can be made to Ronald McDonald House, 3540 Washington Ave., Evansville, IN 47714 or Michael J. Fox Foundation for Parkinson's Research, Grand Central Station, P.O. Box 4777, New York, NY 10163-4777.
Condolences can be made online at www.ziemerfuneralhome.com.
To send flowers or a memorial gift to the family of Mary (Stallings) McCormick please visit our Sympathy Store.