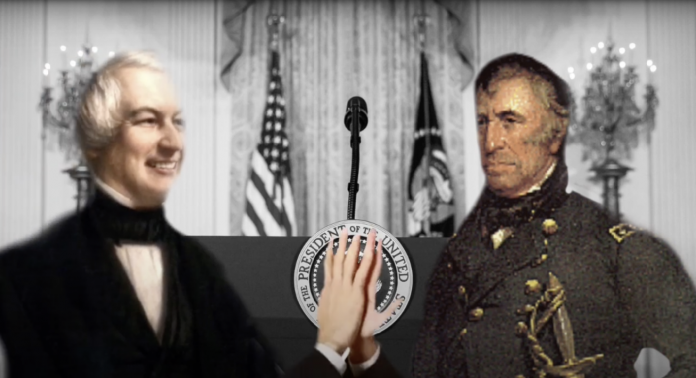 INDIANAPOLIS—Your middle school history teacher might have given you a mnemonic device to remember every U.S. president's name, but how much do you really know about each of them?
In an effort to create more awareness of previous presidents of the United States—ones who don't happen to be Abraham Lincoln or George Washington— the Benjamin Harrison Presidential Site in Indianapolis created a national video competition, Project POTUS, for students from sixth to eighth grade to sum up the president of their choice in one minute or less.
Students are welcome to work in classroom groups or individually to create the videos. The best video for each president will be chosen to be part of a much larger, 46-presidents-in-45-minutes video created after the winners are announced. Winning video creators receive a cash prize as well.
Molly Beausir, a fellow for Project POTUS and employee with the Presidential Site, said the competition originally started as an idea to get kids involved with history during the pandemic.
"We were thinking about something that could be sort of pandemic-proof—something we could do that would be accessible to middle schoolers nationally. We wanted to specifically look at the middle-school audience since, as we consider options for other age groups, there's a lot of academic contests for elementary students and there's a ton for high school, but middle schoolers were kind of an underrepresented audience," Beausir said.
"We also knew that TikTok and kind of short-form video were super popular, and we were kind of looking for a way to make people excited about doing history in that format."
Beyond the need for more middle-school competitions, Beausir said it's the perfect age group to start learning about U.S. history.
"It starts to get them interested early in the area of civics and sort of thinking about how they as a future voting citizen, somebody that's living in this country, can participate in their own democracy," Beausir said. "Just get them thinking about what leadership is and whether they believe that certain presidents made good decisions, bad decisions, what made them sort of exceptional people, and why is it just these 45 people that really had this role in American history over the past 200 some years."
For Beausir, it's exciting to see students actually follow through and submit their videos, especially since she saw the competition from the beginning. Over 100 videos have been created and archived.
She said the staff has seen everything from documentary-style videos to raps about presidents from the past.
"It's pretty awesome to see how creative these students can be, and it really reminds you how much, you know, students in general are capable of, but also the middle school audience," Beausir said.
This need to increase civic literacy makes sense when combined with recent studies. According to a GreatSchools.org article, middle-school curriculum surrounding history has significantly lessened over the past few years.
"We're not doing very well in teaching our students about history and social studies, somewhere between a C and a B," said Peggy Altoff, president of the National Council for the Social Studies in the GreatSchools article. "Thirty-three percent of districts surveyed have reduced the amount of social studies to make more room for math and reading instruction. In some middle schools, social studies is taught half a year instead of a full year."
The competition is open until 5 p.m. April 18. To read full content rules and view previous winning videos, click here.
Last year's winning video was about the relatively unknown president Millard Fillmore, directed by Oscar McDermott-Sipe from Indiana. If you don't know much about Fillmore, give it a watch!
If you need a laugh, lean on Sophie from Indiana who used Earth, Wind & Fire's "Let's Groove" to set the scene for Ronald Reagan's presidency of the 1980s.
Or, if you're a LEGO fan, maybe you could watch Virginia native Arabella's video on James Polk, which uses LEGO figurines to demonstrate Polk's life story.
Ashlyn Myers is a reporter for TheStatehouseFile.com, a news website powered by Franklin College journalism students.