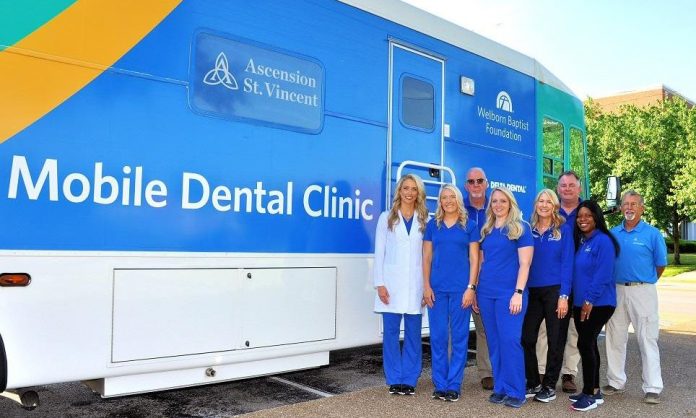 Since its launch in 2000, Ascension St. Vincent Mobile Dental Clinic has provided dental care to children in need at Tri-State schools. The Clinic would not be able to provide this life-changing care without the support of generous donors. Treatment barriers such as insurance, transportation, and a lack of services in counties are eliminated.

On average, 3500 school-aged children are seen through the clinic per year, primarily in Vanderburgh, Warrick, Posey and Gibson counties. Routine exams, preventative care, as well as restorations, stainless steel crowns, and extractions are provided.

Mobile Dental Clinic parent, Brandon, shares this about his experience: "The Mobile Dental Clinic is a wonderful asset to Ascension St. Vincent Evansville and the surrounding community. My son has been a patient with the Dental Clinic for three years. He is autistic and loves the staff and we as parents love the care he receives at the clinic. It is very convenient for parents to not have to take off from work to take their children to the dentist, they can get their exams, fillings, and x-rays, all at the clinic while it is at their school."

Will you support the dental care of a child? Just $200 provides full dental care through the Clinic for one year for a child in need. Through your support, children without access to dental care due to no fault of their own will be afforded the chance to smile, laugh and eat without the pain and embarrassment of dental decay.

Thank you in advance for putting a smile on the faces of the children we serve!