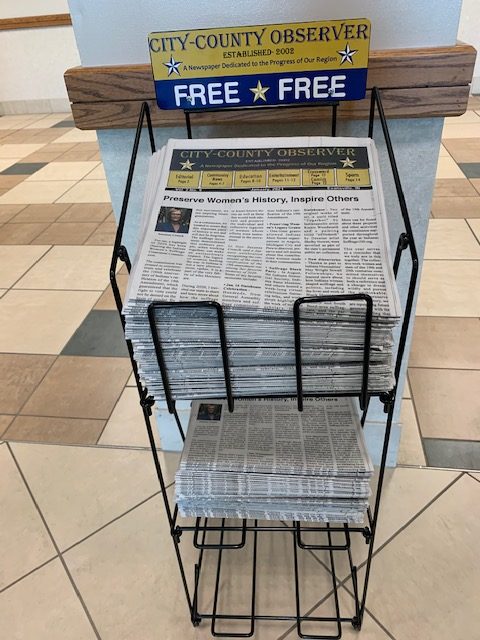 ATTACHED IS THE LINK OF THE MARCH, 2021 PRINTED EDITION OF THE CITY-COUNTY OBSERVER FOR YOUR PREVIEW
THE MARCH EDITION OF A PRINTED COPY OF THE CITY-COUNTY OBSERVER CAN BE PICK-UP AT THE FOLLOWING AREA LOCATIONS AT NO COSTS:
All the area Casey's Convenience stores.
IGA Convenience Marts located at Crossroads and East Lloyd and Heckel Road.
Bargetown Market-4th and Main (Downtown).
All Of The Pet Food stores in Evansville/Vanderburgh County.
Evansville/Vanderburgh County Civic Center.
Ivy Tech Community College.
Tropicana Hotel.
Hilton Gardens.
Quality Inn.
Home Two Hotel.
Fairfield Inn.
Residence Inn-Marriott.
Courtyard Marriott.
Comfort Inn.
Hampton Inn.
Extended Stay.
Drury Inn.
County Inn And Suites.
Central, McCollough, Oaklyn, North Park, Willard, and Red Bank libraries.
Merry-Go-Around Restaurant.
Randomly selected sub-divisions.
Roca Bar-North
Evansville Police Department.
Vanderburgh County Sheriff Office.
Fresh Market-Eastside.
Pet Foods Center-Vanderburgh County.
USI.
University Of Evansville.
THANK YOU FOR YOUR CONTINUED SUPPORT OF THE CITY-COUNTY OBSERVER.
FOOTNOTE:  The D-PATRICK ad is missing on page 16 and will be inserted once its corrected later today.