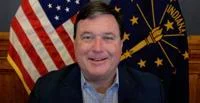 Who's paying for Rokita's defense before the disciplinary commission? Probably taxpayers
By Marilyn Odendahl, The Indiana Citizen

Updated
Indiana Attorney General Todd Rokita acknowledges he is being investigated by the Indiana Supreme Court Disciplinary Commission and maintains he has done nothing wrong, but he won't say why he needs a Washington, D.C., law firm to defend him or whether Hoosiers will be paying the firm's $550-per-hour fee.
"Complaints about the Attorney General's approach were largely prompted by inaccurate public accounts of the facts and unawareness about the extent of the office's legal authority," a spokesperson for the attorney general's office told The Indiana Citizen in an emailed statement, apparently confirming he's under investigation. "Nonetheless, everything claimed falls within the scope of official duties during the scope of employment and were performed in an official capacity"—a possible rationale for using taxpayer dollars for his defense.
A disciplinary investigation is normally a secretive process and does not become public unless the commission finds enough evidence of misconduct to file a complaint. The investigation into Rokita is likely linked to the statements he made after Bernard acknowledged in summer 2022 that she had performed an abortion on a 10-year-old Ohio girl who had been raped.
At that time, former Indiana University provost Lauren Robel expressed outrage over Rokita's unsubstantiated accusations that Bernard had violated state laws by not reporting the abortion she performed. Robel, also a former dean of the Indiana University Maurer School of Law, told the media she had filed a grievance about the matter with the disciplinary commission.
The investigation could result in variety of outcomes ranging from the commission finding no violations and dropping the matter altogether to recommending the attorney general lose his license to practice law. Now that Rokita is under review by the commission, he appears to have hired Schaerr Jaffe, a boutique law firm based in Washington, D.C., to represent him.
Former Indiana Attorney General Curtis Hill—who himself was the subject of a disciplinary commission investigation—entered into the contract with Schaerr Jaffe in 2019 to help the state litigate its case against the South Bend abortion clinic Whole Woman's Health.
In mid-December 2022, Rokita's office expanded the scope of the contract so Schaerr Jaffe would provide help with the state and federal lawsuits involving Bernard. The language of the amended contract does not specifically include Rokita's disciplinary investigation but does state the firm will also provide legal services for "other related privacy complaints connected to the investigation at issue, and all other matters or duties assigned by State and agreed to by Counsel."
Along with changing the parameters of the contract, the amendment also increased the total amount Schaerr Jaffe could be paid to $900,000. Indiana has paid $433,054.48 to the law firm since the contract was initiated about four years ago, according to the Indiana Auditor's office. This leaves $466,945.52 to pay for handling the Bernard work, which could include using some of these public dollars to pay for Rokita's disciplinary defense.
Rokita did not respond to a question from The Indiana Citizen about whether he would be charging taxpayers. Gene Schaerr, a founding partner of Schaerr Jaffe, also did not directly address the use of public funds to pay his firm but said the attorney general was just doing his job and should not have to use his own money to defend himself.
"Furthermore, there is no valid reason why the Attorney General's workplace wouldn't pay for something directly related to his job duties—such as here, where he kept the public informed about the status of the non-confidential investigation(s) related to Dr. Bernard's apparent privacy violation—as it does for other lawyers who are state employees with matters before the Commission," Schaerr told The Indiana Citizen.
"Any person can file a complaint for any reason and many do for political or ideological purposes, so it would be unfair to make underpaid state employees foot the bill for otherwise doing their jobs."
Heightening public condemnation
Other legal scholars and lawyers have echoed Robel's outrage over the attorney general's statements about Bernard. They argue by stirring public condemnation through his comments, Rokita has run afoul of the code of conduct that governs the legal profession.
Retired lawyer Paula Cardoza-Jones, who served 20 years as a staff attorney for the Indiana Supreme Court, identified three rules from the Rules of Professional Conduct that Rokita may have violated. In a column published by the Indiana Lawyer newspaper in September 2022, Cardoza-Jones pointed to Rules 3.6, 3.8 and 8.4, which prohibit lawyers, particularly those working in the public sector, from making extrajudicial statements that have a "substantial likelihood" of prejudicing the public against the accused.
Cardoza-Jones pointed out the attorney general's continued dialogue impacted the safety of Bernard's family.
"Rokita's inflammatory extrajudicial accusations against Bernard in the media have heightened public condemnation of her," Cardoza-Jones wrote. "Rokita's statements have even resulted in a kidnapping threat against her daughter."
In an interview with the Indianapolis Fox News affiliate, Fox 59 News, which ran Feb. 26, Rokita attributed the backlash to politics.
"We're taking this office in an aggressive direction … that predecessors haven't taken it and that has rubbed some of the establishment, liberals certainly, the wrong way," Rokita told the television station. "And I think that drives a lot of this."
Margaret Tarkington, a professor at Indiana University Robert H. McKinney School of Law who teaches legal ethics, was among a group of law professors who signed a letter outlining their objections to the attorney general's remarks. In particular, Tarkington believes Rokita ran afoul of the rules of professional conduct—including Rule 3.8, which prohibits a prosecutor from making statements that will "heighten public condemnation of an accused"—by accusing Bernard of breaking the law before he had any proof to support his claim.
The professor highlighted a statement the attorney general sent on Twitter and in a press release July 14, 2022. Rokita took to social media after the abortion on the Ohio minor became public and and implied Bernard may have violated state law even while conceding he did not have any evidence. Moreover, since discovering the OB/GYN did notify the proper authorities of the abortion, Rokita has not issued any retraction.
Instead, Rokita's tweet remains intact. "We are investigating this situation and are waiting for the relevant documents to prove if the abortion and/or abuse were reported, as Dr. Caitlin Bernard had requirements to do both under Indiana law," he tweeted,  "… The failure to do so constitutes a crime in Indiana and her behavior could also affect her licensure."
Tarkington said prosecutors should be careful because they wield enormous power and through an accusation alone, those accused can lose their jobs and reputations even if no criminal charges are ever filed. In fact, Indiana's professional Rule 3.6(d) nods to this power by requiring prosecutors whenever they announce someone has been arrested or charged to include a statement that the accused is presumed innocent unless and until proven guilty.
Rokita went "a step beyond the norm," the professor said, by making accusations before he had even gathered the evidence—given that he states in his own tweet he was still "waiting for the relevant documents."
"That to me is an extreme example of going away from your role as a minister of justice," Tarkington said. "(Prosecutors) have an obligation to protect the constitutional rights including the life, liberty and property of the accused, including their reputational interests."
The attorney general's conduct also drew a rebuke from the Marion County Superior Court. In a December 2022 ruling in Bernard et al. v. Rokita et al., 49D13-2211-MI-038101, Judge Heather Welch found that Rokita violated state confidentiality statutes by telling the public about his office's investigation into Bernard before he referred the claims to the Indiana Medical Licensing Board. Welch called Rokita's public disclosures a "clear violation of Indiana law."
Rokita has defended his actions on a several fronts, including hiring Schaerr Jaffe to "correct" Judge Welch's order.
During an interview with Fox 59 News, aired Feb. 22, Rokita said his actions were within the law.
"I can do non-confidential investigations in certain areas of the law against doctors and others and have independent causes of action surrounding those," Rokita said. "So that's one example of where there was nothing wrong with what I said."
Also, in his "motion to correct" Welch's ruling, the state's top lawyer maintained he did not reveal the details of the investigation or the consumer complaints that gave rise to the review of Bernard's treatment of the minor child. Rather, he claimed, he was fulfilling his duty to keep the public informed by sharing that "his office was investigating suspected violations of Indiana law based on facts known to the public."
Tarkington said Rokita could have met the duties of his office by making general statements. He could have simply told the public his office was looking into the matter.
"It is not the job of prosecutors to accuse people of a crime before they even have the relevant evidence," Tarkington said.
Paying for the defense
Rokita told The Indiana Citizen his office is continuing to work with the disciplinary commission on this investigation. Also, he told Fox 59 that he looks forward to working with the commission.
"They have my full cooperation," Rokita told Fox. "I've been answering their questions because, I think, if we can get to the bottom of this, finally, with an accurate picture of what went on, that'll be good for the entire process."
Unknown is how long the investigation into Rokita will take and how much it will cost.
Neither the professional rules nor state statute prevents a prosecutor, judge or other public sector attorney from spending public monies to cover the expenses that can arise from a disciplinary action. In addition to the cost of hiring a lawyer, the defendant attorney could be ordered to pay the expenses of the investigation, the procedure and the hearing officer along with a fee of $250.
Former Attorney General Hill had his license suspended for 30 days with automatic reinstatement for inappropriately touching four women at a party following the end of the Indiana General Assembly's 2018 session. After the sanction was handed down, a skirmish erupted between him and the disciplinary commission over money.
The commission submitted an itemized statement of expenses that totaled $57,205.61. Hill protested, arguing the commission's demand for the "extreme sanction" of suspending his law license for two years without automatic reinstatement increased the costs. The commission countered the high costs were the result of the attorney general's conduct at the party that "constituted battery on four women" and then denying the allegations.
After the Indiana Supreme Court reduced the bill to $19,068.54, Hill paid with what appears to be a personal check. Yet, as the commission noted, Hoosier taxpayers still had to foot part of the Hill's expenses. The $57,000-plus had been paid from court funds and the commission was essentially seeking a reimbursement.
Rokita's cost for the legal team representing him before the commission will not only have to cover Schaerr Jaffe but also at least one Indiana lawyer. As a condition of temporary admission, out-of-state attorneys are required by Rule 3 of the Indiana Rules of Admission and Discipline to have a member of the Indiana bar appear as co-counsel.
Who is serving as local counsel in Rokita's disciplinary matter is not known, but he highlighted to The Indiana Citizen that his office has the expertise to appear before the commission.
"This Office, through outside counsel or deputy attorneys general, usually represents lawyers who are state employees or state officials in disciplinary commission matters, when the actions forming the basis of the grievance are within the scope of employment. It's one of the many duties of the Indiana Attorney General," the attorney general's spokesperson said in an email. "This type of representation is not unique to lawyers in the Office of the Attorney General."
Donald Lundberg of Lundberg Legal served as the executive director of the disciplinary commission from 1991 to 2009 and represented attorneys in disciplinary proceedings, including Hill. He said while out-of-state counsel could be effective, it is unusual for Indiana lawyers to enlist non-Indiana counsel for representation since in-state attorneys know how the process works and the players involved.
Even so, Lundberg said he hesitated to read too much into Rokita's decision to rely on out-of-state lawyers. Just like many legal matters, the disciplinary process "is about law and facts, the stuff lawyers do all the time. I mean there's not any substantial disadvantage unless the attorney doesn't regularly do that kind of work."
Schaerr characterized the disciplinary representation as part of his firm's work for Indiana.
"As you may know, Dr. Bernard is an abortion activist who apparently violated her patient's privacy and thus started this entire episode," Schaerr said in an email. "Unfortunately, through this and other actions, Dr. Bernard has imposed on Indiana a great expense over the years—by such things as filing or participating in lawsuits against reasonable Indiana abortion restrictions; by helping to lead rallies at the state house and other venues where state and local police had to be taken away from other duties; by increasing regulatory costs and other things. Historically, our firm has been the lead outside counsel for many of these matters, and since we have a current contract with the state, we added this related work to it."
FOOTNOTE: This article was published by TheStatehouseFile.com through a partnership with The Indiana Citizen (indianacitizen.org), a nonpartisan, nonprofit platform dedicated to increasing the number of informed, engaged Hoosier citizens.
Marilyn Odendahl has spent her journalism career writing for newspapers and magazines in Indiana and Kentucky. She has focused her reporting on business, the law and poverty issues.