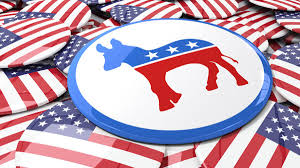 VERY CONFIDENT AND PROUD OF OUR HIGHLY QUALIFIED TEAM
BY CHERYL SCHUTZ
CHAIRMEN OF THE DEMOCRATIC PARTY OF VANDERBURGH COUNTY 
Last year, as the Vanderburgh County Democratic Party started discussing the 2023 municipal races, we were in a unanimous agreement that we wanted a unified ticket with no primary challenges in order to promote our candidates as soon as the filing period ended on February 4.  We successfully met this goal and are
Because we do not have contested races on the Democratic ticket, there may be a feeling of complacency, or at least a lack of urgency, among some that threaten to impact voter turnout.  We encourage local Democrats to engage in the Primary process and show up in support for ALL of our candidates. This is our opportunity to show our community that our local Democratic party is engaged, excited, and unified about voting for our candidates.
Our outstanding team is led by our candidate for mayor, Stephanie Terry. Stephanie has a stellar resume full of personal and professional accomplishments. She is a native of Evansville, a graduate of Bosse High School, and earned her master's degree from the University of Evansville. Stephanie currently serves as the Executive Director of the Children's Museum of Evansville (cMoe), and has over 15 years of experience in not-for-profit organization management. In 2011, the Evansville Courier & Press named Stephanie a "20 under 40" Emerging Leader. In 2017, the University of Southern Indiana Multicultural Center recognized her as a Phenomenal Woman and recently, Stephanie was named one of the 2018 Southwest Indiana Chamber Athena finalists.
Ben Trockman is running for reelection in the first ward. A graduate of the University of Southern Indiana. Ben is employed by Change for Balance and works with legislators in Washington DC and Indianapolis to improve employment opportunities, airline accessibility, and healthcare options for people with disabilities. He previously served as a National Ambassador for Easter Seals.
Missy Mosby has served 15 years on the city council representing the second ward and is seeking reelection for her fifth term.  Missy is very involved in the Second Ward and enjoys representing its residents and promoting local businesses. She has also held office longer than any currently elected Democrat.
Zac Heronemus is currently serving his second year as president of the city council and seeking reelection for a second term in the Third Ward. Zac was appointed as the executive director of Aurora in 2020. He received a Bachelor of Science degree in Political Science in 2008 as well as a Master of Public Administration in 2011 – both from the University of Southern Indiana (USI).
Alex Burton is seeking reelection in the Fourth Ward for a  second term. Alex Burton was born and raised in Evansville, IN. He attended and graduated from both Indiana State University (B.S. Communications) and Western Kentucky University (Master's of Public Administration). Alex is involved in local and statewide affairs and is at the forefront of several initiatives that relate to workforce development, youth, and economic development.  Alex believes that the future of this city is dependent upon the choices made in the next few years, and his involvement put him in the right position to not only serve, but lead and ensure every resident believes that 'E' is for everyone.
Jim Brinkmeyer is seeking another term representing the sixth ward. Jim is a lifelong resident of Evansville, graduating from Reitz High School in 1982. He obtained a B.S from the University of Southern Indiana in 1988, and a Master's in 1994. Jim has taught for 30 years, 24 of those years at Reitz, one at Central, as well as serving as an Assistant Principal at North from 2001-02. He has coached basketball for over 20 years and is currently the head coach of the men's track team. Jim is active in his community as a member of the Westside Nut Club and R-Mens Varsity Club.
In addition to our five incumbent city council members, we have three candidates running for the three at-large positions on the council.
Mary Allen is the founder of Sixth and Zero, a local low-waste lifestyle shop and refiners in downtown Evansville. She is the voice behind the Waste Less Live More Podcast, a podcast focused on local and global sustainability efforts, and the co-founder of the community activist group, Zero Waste Evansville.  Over the last 30 years, Mary has volunteered and served in a variety of capacities from serving on the board of my neighborhood association, volunteering for 10 years with an inner city community development organization, to being one of the founders of the  Haynie's Corner Art District Association and is a member of Veterans for Peace.
Paul Green is the former Business Agent/Organizer at IBEW Local 16. He is a former JATC instructor at NECA IBEW Electrical JATC. He is a member of the Evansville Vanderburgh Electrical Examiners Board, Evansville Regional Airport Authority Board of Directors, Aurora Board of Directors, and the Easter Seals Board of Directors.  He is currently the owner of Taylor 2 Restaurant in Oakland City.
Courtney Johnson is a graduate of Bosse High School and attended the University of Southern Indiana. For the past 10 years, he has served as the director of Young and Young & Established, a local nonprofit founded in 2013, which exists for the betterment of the community, primarily through the inspiration and motivation of the youth. Y&E strives to be a leading organization that actively promotes positive youth empowerment. It is the passionate desire of the Young & Established movement for youth and young adults to realize their self-worth and potential, establish and reach goals, become successful members of their communities, and to fulfill their dreams!
. Laura Windhorst is running for her fourth term as the Evansville City Clerk. As an elected official, City Clerk Laura Windhorst has proudly represented the City of Evansville since 2012 and continues to focus on customer service and citizen engagement. Windhorst has sought out ways to improve the public's accessibility to city meetings and records, online payment methods, and opportunities to serve the community.
Early voting begins April 4 at the Old National Events Plaza from 8:00 a.m. – 4:00 p.m.  A week of early voting at four of our libraries and Washington Square Mall will begin on April 24 at noon. We encourage all Democrats to plan their vote and show up to support our highly qualified slate of candidates.