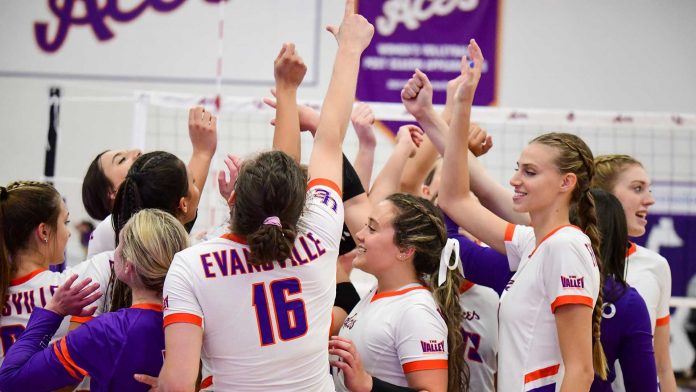 Aces take down Illinois State by 3-1 final
EVANSVILLE, Ind. – Giulia Cardona and Alondra Vazquez recorded 18 and 16 kills, respectively, to lift the University of Evansville volleyball team to a 3-1 victory over preseason Missouri Valley Conference favorite Illinois State in Friday's league opener inside Meeks Family Fieldhouse.
Cardona his .333 for the Purple Aces while Vazquez was just behind, finishing at .310.  Emilee Scheumann and Madisyn Steele were equally impressive – totaling eight kills each.  Vazquez led all players with 16 digs while Kora Ruff chipped in 33 assists.
Set 1: UE 25, ISU 12
Putting together one of the most efficient sets of the season, the Purple Aces began the night with a huge set victory. Behind six Emilee Scheumann kills, UE earned a 25-12 win.  After the Redbirds took a 2-1 lead, Evansville rallied back to take its first advantage at 4-3 on a Schuemann kill.  It grew to 8-5 when Alondra Vazquez recorded her first kill.
ISU kept it close at 12-9 before UE changed the course of the set.  Kills from Vazquez and Scheumann helped to extend the lead to 16-9 and it would be the start of a longer 12-2 run that made it a 24-11 game.  Giulia Cardona added an ace while Scheumann picked up two more kills.  Cardona put the exclamation mark on the set with her fourth kill to cap off the set.
Set 2: ISU 25, UE 23
Multiple ties ensued before the Redbirds took a 9-6 lead on a service ace.  Illinois State doubled that advantage to six points at 18-12, but Evansville stormed back.  A 6-1 run cut the deficit down to just a point.
UE took advantage of four Redbird errors while Vazquez and Cardona picked up kills.  Things continued to remain within 1-2 points, but the Aces could not tie the score as the Redbirds knotted the match with a 25-23 win.
Set 3: UE 25, ISU 20
Early in the frame, it was UE opening up a 7-5 lead when ISU utilized an 8-2 stretch to go in front 13-9.  That is when the tides turned. Evansville put together a huge run to jump in front.  Scoring eight in a row, the Aces turned the deficit into a 17-13 lead.  Kora Ruff picked up an ace while Cardona and Vazquez registered kills.
Two aces by Illinois State saw them get ack within one at 19-18.  With the pressure on, the Aces responded.  Cardona added another kill that righted the ship and saw UE win by a 25-20 final to go up 2-1 in the match.
Set 4: 25, ISU 18
Looking to clinch the match, the Aces came out strong, taking a 9-6 lead.  After ISU fought back to tie it at 10-10, Cardona picked up back-to-back kills before Kate Tsironis and Vazquez added one apiece to put UE in front at 14-10.  ISU responded with a 5-1 run to tie it up.
It was Cardona providing the response, picking up two more kills with Steele adding another to cap a 4-0 run that made it a 19-15 game.  The offense continued its run with three more kills leading to a 24-17 score.  Following an Illinois State point, the Aces recorded the clinching point to win the match.
On Saturday, UE is back in action with a 5 p.m. match against Bradley inside Meeks Family Fieldhouse.