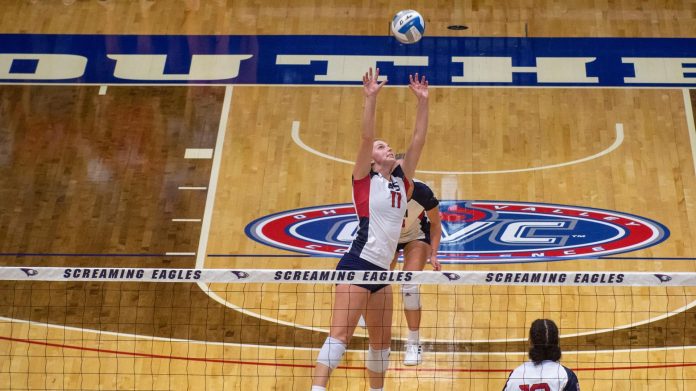 USI falls to TTU, 3-0
COOKEVILLE, Tenn. – University of Southern Indiana Volleyball (0-12, 0-1 OVC) finished its first Ohio Valley Conference match of the 2022 campaign that ended with a 3-0 (18-25, 21-25, 15-25) loss to Tennessee Tech University (4-9, 1-0 OVC). The Screaming Eagles put up low offensive numbers in the conference opener, tallying just 26 kills and a .111 attacking percentage, both second lowest this season.
 
A late run by the Golden Eagles gave USI the 25-18 opening set loss. Sophomore outside hitter Abby Weber (Fishers, Indiana) kicked off the set with a big kill before TTU went on a 4-0 stint to gain a 4-1 advantage. The Eagles were able to tie it a few times early on before the Golden Eagles went on a 5-1 surge to make it 15-11. Sophomore middle hitter Paris Downing (Avon, Indiana) was able to stop the run with a kill while junior outside hitter Leah Anderson (Bloomington, Illinois) and Downing were able to tag-team a block to cut the deficit to two. At 16-14, TTU would go on a massive 7-0 run that put USI down, 23-14. The Eagles tallied four straight points thanks to three Golden Eagles errors and a service ace from sophomore outside/right side hitter Abby Bednar (Chagrin Falls, Ohio) to cut the gap before TTU stole the show and the first set. Weber led the group with three of the team's eight kills.
 
TTU took advantage of its 19 kills and .273 hitting percentage to take the 25-21 second set victory. The Golden Eagles went up 5-2 early in the set before a pair of TTU errors and a Bednar kill made it a one-point game. The Golden Eagles, however, stormed back with a 5-0 surge to give themselves a, 11-5 lead. USI was able to score the next five of seven points to pull within three before TTU countered with a 4-0 stint. With a 19-11 deficit, the Eagles were able to get back into the game thanks to three Golden Eagle miscues and a kill from Anderson before TTU returned the favor with back-to-back kills to extend to a 21-15 lead. USI went on two 3-0 runs, one stint had three kills by three different Eagles to cut TTU's lead to 23-21. The late run was not enough as the Golden Eagles earned their second victory of the match. As a team, USI tallied 10 kills and a .219 hitting percentage along with an ace.
 
The Eagles watched TTU run away with the third frame, 25-15. USI started the set with a kill from sophomore outside/right side hitter Evie Duncan (Evansville, Indiana) that started back-and-forth action that resulted in a 4-4 draw. TTU would go up by three before a pair of attacking errors put USI within one. With the score 8-7, the Golden Eagles put together a 5-0 run before Bednar stopped the bleeding with her fifth kill of the match. The Eagles' offense went cold the rest of the match, scoring just five of the final 16 points as the Golden Eagles win the first OVC match of the regular season.
 
Anderson was the offensive leader for USI, recording six kills with Weber and Bednar each capturing five kills. Junior outside/right side hitter/setter Katherine Koch (Belleville, Illinois) earned a team-high 13 assists while sophomore libero/defensive specialist Anna Ballengee put up 16 digs and was the team's only ace. Bednar, Downing, and freshman middle hitter Bianca Anderson (Chicago Heights, Illinois) nabbed three blocks each.
 
As a team, the Eagles earned 26 kills and 15 errors off 99 total attacks, giving them a .111 hitting percentage. USI tallied 24 assists, 37 digs, and 12 blocks. TTU ended the match with 48 kills off 115 total attacks to total a .261 attacking percentage. The Golden Eagles also had 47 assists, 51 digs, and 20 blocks.