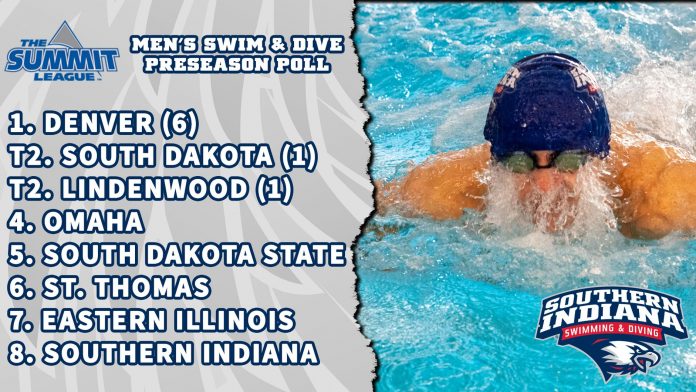 EVANSVILLE, Ind. – University of Southern Indiana Men's Swimming & Diving is predicted to finish eighth in The Summit League this season. The Summit released the preseason predicted order of finish Wednesday morning along with the 2022-23 Preseason Swimmers and Divers to Watch, where freshman multi Garrett Crist (Bargersville, Indiana) and diver/breaststroke Lane Pollock (Boonville, Indiana) landed themselves on the list. The Screaming Eagles will compete in the program's inaugural season after joining The Summit League in early 2022.
"We are excited about our first year of competition and doing so within the Summit League," says USI Head Coach Cameron Kainer. "This league is comprised of teams who have qualified for the NCAA meet and show year in and year out what it takes to compete at that level. We are excited about joining this prominent league and I think we are planning to turn some heads in our first season."
Topping the preseason poll was the reigning Summit League Champion, the University of Denver, who nabbed 48 total points and six first-place votes. South Dakota University and Lindenwood University claimed a tie for second place with 38 points and one first-place vote each.
Rounding out the final five are the University of Nebraska Omaha (30), South Dakota State University (28), University St. Thomas (19), Eastern Illinois University (14), and USI (9).
Along with the preseason poll, the Summit announced its 2022-23 Preseason Swimmers and Divers to Watch, where Crist and Pollock earned two of the 16 spots. Crist is a Center Grove High School product who was a three-time All-Conference and two-time All-State competitor. He also was named to the NISCA All-American swim team in 2021. Pollock, the lone Eagles' diver, comes out of Boonville High School where he collected 12 athletic letters in three different sports. He tallied two state appearances and led his team to back-to-back conference championships.
The Eagles begin the 2022-23 campaign when they host Valparaiso University on October 1 at USI Aquatic Center. USI also will host Quincy University on October 22 and Southern Illinois University on January 21, 2023. The Eagles travel to four different meets with their first being a competitor in the Bellarmine Invitational on October 28 and 29. The Eagles will then travel to Minneapolis, Minnesota for The Summit League Championships from February 22 to 25, 2023.
2022-23 Summit League Men's Swimming & Diving Preseason Coaches' Poll
Rank
School
Points (1st)
2022 Championship Finish
1.
Denver
48 (6)
1st (987 pts)
2.
South Dakota
38 (1)
2nd (723 pts)
Lindenwood
38 (1)
GLVC: 5th (1,129 pts)
4.
Omaha
30
4th (564 pts)
5.
South Dakota State
28
3rd (595 pts)
6.
St. Thomas
19
5th (302 pts)
7.
Eastern Illinois
14
6th (217 pts)
8.
Southern Indiana
9
N/A
Summit League Men's Preseason Swimmers and Divers to Watch
(as selected by league coaches)
Marco Nosack, Denver
Jon Brouillette, Denver
Mack Sathre, South Dakota
Jaden Cardona, South Dakota
Elliott Irwin, Lindenwood
David Molina-Fregenal, Lindenwood
Luke Asbury, Omaha
Ian Blackstock, Omaha
Austin Smith, South Dakota State
Zach Boyd, South Dakota State
Alex Foti, St. Thomas
Joe Rudd, St Thomas
Sebastian Rosales, Eastern Illinois
Conner Colston, Eastern Illinois
Garrett Crist, Southern Indiana
Lane Pollock, Southern Indiana