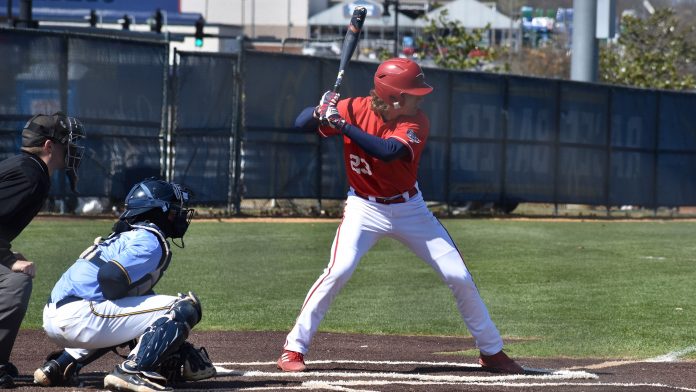 MARION, Ill. – University of Southern Indiana Baseball could not hold onto a lead late and lost to Eastern Illinois University, 5-4, in opening game of the 2023 Ohio Valley Conference Championship at Mt. Dew Park in Marion, Illinois. USI, the eighth seed, finishes the year 17-38 overall, while EIU, the fifth seed, goes to 34-18.
 
USI had the early momentum behind arm of junior left-hander Blake Ciuffetelli (Newburgh, Indiana) and the bat of freshman third baseman Caleb Niehaus (Newburgh, Indiana).
 
Niehaus gave the Eagles a 3-0 lead after four innings with a RBI-single in the second inning and a two-RBI single in the fourth. The freshman third baseman finished the day two-for-five with the three RBIs.
 
The Panthers cut into the lead with a tally in the fifth before USI got the run back in the sixth on a RBI-single by junior first baseman Tucker Ebest (Austin, Texas) for a 4-1 advantage.
 
Ciuffetelli cruised through the first six innings before exiting the game with a 4-2 lead in the seventh. The junior left-hander finished the game with a no-decision, allowing four runs, two earned, on six hits, while striking out five in a career-best 6.1 innings of work.
 
EIU concluded its seventh inning comeback with a run-scoring hit-by-pitch, a sacrifice fly, and a bases-loaded error to take its first lead of game, 5-4. USI was set down in the eighth before putting runners at second and third with one out in the ninth but could not get the tying run to cross the plate in the loss.
 
USI sophomore right-hander Gavin Morris (Brazil, Indiana) took the loss, allowing one unearned run in a third of an inning, while junior right-hander Carter Stamm (Jasper, Indiana) finished the final 1.1, giving up a hit and a walk.