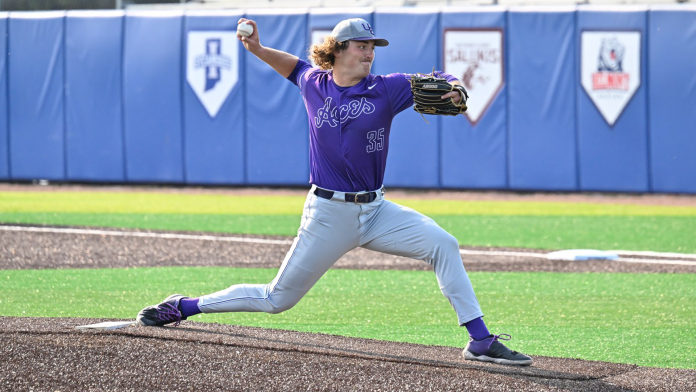 TERRE HAUTE, Ind. –  University of Evansville junior RHP Nick Smith tossed eight strong innings on Wednesday morning, and the Purple Aces used a four-run seventh inning to knock off the No. 3 seed Southern Illinois, 7-3, in the Missouri Valley Conference Tournament opener for both teams at Bob Warn Field in Terre Haute, Indiana.
"What a start today from Nick Smith to give us a chance to win today," said UE head coach Wes Carroll.  "In order to be able to dogpile on Saturday, you usually have to win the first game, and Nick went out today and really battled after SIU scored a run in the first inning against him, and was able to give us a quality start on the mound.
"Offensively, I thought that we had a lot of different guys step up for us today and come through, but I was especially happy to see what the guys in the bottom of the order did for us.  Evan Waggoner coming through with a big two-run home run in the second inning was huge, and I thought that Danny Borgstrom had a great at-bat in the seventh inning, and Ty Rumsey coming through with two hits and three quality at-bats.  When those guys go well, we can be a really tough team to try and beat."
SIU was able to strike first on a solo home run by second team all-MVC outfielder Pier-Olivier Boucher in the first inning, but Waggoner immediately answered for Evansville in the second inning with a two-run home run to right field to give UE a 2-1 lead.
The Salukis would scratch across single runs in the fourth and sixth innings against Smith to grab a 3-2 lead, but Evansville once again answered back with four runs in the seventh inning to grab a lead it would never lose.  The Purple Aces took advantage of some wildness from SIU in the frame, as UE loaded the bases with a hit-by-pitch and two walks to open the inning.
With two strikes against him, Borgstrom came through with a run-scoring fielder's choice ground ball to tie the game at 3-3.  Rumsey then delivered a sharp single to center field to give UE a 4-3 lead.  A pair of walks would re-load the bases and end up scoring a run, before junior second baseman Kip Fougerousse drove in another run with a two-strike ground ball that SIU's third baseman couldn't handle to give UE a 6-3 lead.
Fougerousse would then tack on an insurance run in the top of the ninth inning with an RBI single to provide the final margin of victory.
Waggoner went 2-for-3 with a home run, a run scored and two RBI on his birthday to lead UE.  Rumsey also went 2-for-3 with a double, two runs scored and an RBI, while Fougerousse drove in a pair of runs.  Smith (5-3) earned the victory for UE on the mound, giving up three runs on seven hits in a career-high 8.0 innings of work with a trio of strikeouts.
With the victory, Evansville improves to 34-22 overall.  Evansville will now move on to face the winner of the game between No. 2 Missouri State and No. 6 UIC on Thursday night at 6:30 p.m. central.  Every game of the MVC Tournament can be seen live on ESPN+, with every UE game also being available in the Tri-State area on the radio on 107.1 FM-WJPS and the Old National Bank/Purple Aces Sports Network from Learfield.