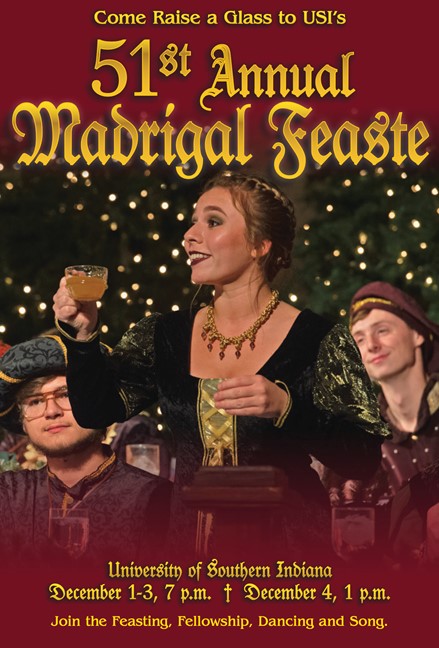 The University of Southern Indiana Chamber Choir will host the annual Madrigal Feaste December 1-4 in Carter Hall, located in University Center West on the USI campus. December 1-3 performances will begin at 6 p.m. with doors opening at 6:30 p.m., and the December 4 matinee performance will begin at 1 p.m. with doors opening at 12:30 p.m.
First performed in 1969 and USI's most enduring musical tradition, the Madrigal Feaste takes guests back to Fifteenth Century Ireland as the choir entertains with selections of old English madrigals, Irish traditional folk songs and carols, as well as stirring choral selections for the holiday season.
Performances combine vocal and instrumental music, dancing, drama, elegant Renaissance garb and fine dining. The event is sponsored by Berger Wealth Services and is the first Madrigal Feaste USI has held since 2019.
This year's menu will include salad, soup of beef and barley, herb baked chicken and vegetables and bread pudding with rum sauce.