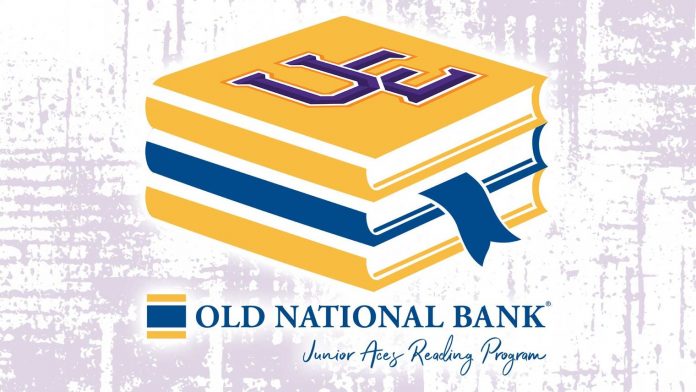 EVANSVILLE, Ind. – Purple Aces Athletics has teamed up with Old National Bank to create the Old National Bank Junior Aces Reading Program.  Ace Purple challenges all children in fifth grade or under to read 5 books over the course of the upcoming basketball season! Upon completion, submit the form and you will win two (2) free tickets to a University of Evansville men's basketball game this season.
"Providing and supporting education is a major focus at Old National and we are proud to serve as presenting sponsor of the Junior Aces Reading Program," said Sara Miller, Old National Bank Market President.
Directions for the Old National Bank Junior Aces Reading Program are:
Print out a Junior Aces Book Tracker to display your child's progress.
Start Reading! Fill in books on the tracker as you go.
When five books have been finished, complete the form below!
Show off your completed book tracker on social media! Use the hashtag #ONBRead (Optional)
Be on the lookout for an email with ticket instructions!
The final day to submit the completion form is February 1, 2023.
"The Old National Bank Junior Aces Reading Program is a great step forward in our desire in the Athletics Department to continue to place an emphasis on community outreach. Thanks to the generous support of Old National Bank we are able to launch this program that truly will make a difference," UE Director of Athletics Dr. Ziggy Siegfried stated.  "I want to thank Old National Bank, Brandon McClish and Nicole Tucker from Purple Aces Sports Properties, and all of our coaches for their commitment to making a difference in our community. Go Aces!"
An additional aspect of the program will include UE student-athletes and coaches reading in local classrooms.
Please contact Nicole Tucker at nicole.tucker@purpleacessportsproperties.com with any question