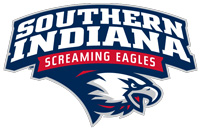 ---
EVANSVILLE, Ind. – University of Southern Indiana Men's and Women's Soccer updated their 2020-21 schedule today. The COVID-19 adjusted slate following the postponement of the usual fall start will feature 14 Great Lakes Valley Conference men's and women's doubleheaders, seven scheduled at home.
The 15-team GLVC will have a round-robin schedule consisting of no travel partners to ensure every team is able to play seven home and seven away games. The conference also announced no team will play more than three consecutive games at home or on the road.
The Screaming Eagles kick off the season with a home doubleheader against the University of Indianapolis on February 28. USI will have a total of four home matches in the following month against Quincy University (March 12), Truman State University (March 14), Southwest Baptist University (March 26), and Drury University (March 28).
The remainder of the 2020-21 home schedule concludes with a pair of doubleheaders in April against Lindenwood University (April 9) and the University of Missouri-St. Louis (April 11).
The away schedule has USI opening on the road against Lewis University (March 5). The rest of the month includes visits to the University of Illinois Springfield (March 7), William Jewell College (March 19), and Rockhurst University (March 21). USI closes out their road slate with a trio of contests in April beginning at Missouri University of Science & Technology (April 1), Maryville University (April 3), and the regular-season finale at McKendree University (April 16).
The 2020-21 postseason play will consist only of the GLVC Tournament, which is scheduled to start with the first quarterfinal games on April 19 (top four seeds) and the semifinals/finals to crown a winner of the conference, April 23-25 in St. Charles, Missouri.
Eagles' men's team posted a 9-7-3 record en route to a semifinal appearance in the 2019 GLVC Tournament where the McKendree Bearcats bested them in a defensive battle, 1-0, last November. USI returns two of their top four scorers from last year in sophomore Zach Barton (14 points- five goals, four assists) and junior Ryan Nevins (12 points- six goals). Also, senior goaltender Justin Faas will build off a 2019 season where he put up five shutouts along with a 0.95 goals-against average.
On the women's side, they are coming off a historic season after being claiming the 2019 GLVC Tournament title for the first time in program history. The Eagles defeated McKendree in a wild game decided by penalty kicks (4-3) to advance automatically to the NCAA II Tournament. They look to return all their top four scorers from a season ago starting with junior Kaitlyn Andres (21 points- eight goals, five assists), senior Maggie Winter (16 points- seven goals, two assists), senior Taylor McCormick (ten points- three goals, four assists) and senior Madelyne Juenger (nine points- two goals, five assists).