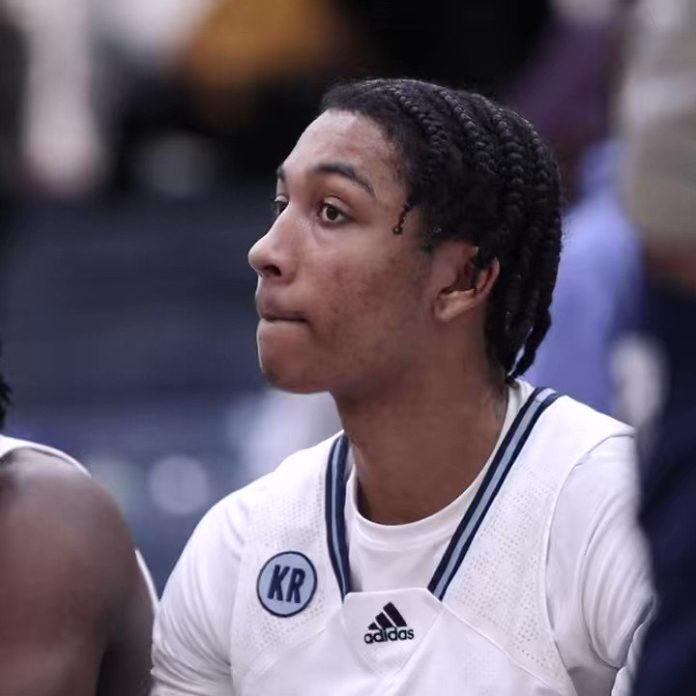 VINCENNES, Ind. – The 2023-24 Vincennes University men's basketball team continues to take shape with the latest signing of six-foot four guard Mathieu Nader Kalombo last week.
Nader comes to VU originally from the Montreal area in Quebec before playing last season at Hamilton Heights Christian Academy in Chattanooga, Tenn.
"Mathieu is a six-four, 200-pound, lefty combo guard," VU Hall of Fame Head Coach Todd Franklin said. "He played point guard a lot. I think he's a true combo guard. I think he can play some point. I think he shoots it well. He has good size for the position which allows him to be a two-guard and play off the ball."
"He came across Coach Davis's desk in the spring," Franklin added. "He was playing very well for his spring AAU team. He's from Montreal and kind of snuck under the radar a little bit as players coming out of Montreal typically do. He came down and played at a prep school in Chattanooga. It's a prep school that has been pretty successful over the years. Mathieu played there, had a good year with a good team. He averaged around 14 points per game on a talented team."
"Mathieu was more of an all-around player at Hamilton Heights," Franklin said. "He got assists and rebounds and always guarded the other team's best player. He then jumped into the spring AAU circuit to try to get one more look and find an opportunity. He had been a guy that had been shining at all the events he was at. The reports were that he is a low to mid Division I guy that has really been impressing, good student, good guy, so we brought him up for a visit and we liked what we saw enough to sign him."
"He's a pretty good athlete, not unbelievable, but has really good size for the position," Franklin added. "I think he has the potential to be a really good shooter. When his footwork is consistent, he can really shoot the ball well. So, we'll see how it ends up working out. We'll see if he ends up playing more as a point or more as a two, but at this point he is a true combo guard kind of guy."
"Everybody says he's a gym rat," Franklin said. "We'll see if that's true when he's here. Everything with him appears to be in order and we think he fits us. We'll put him in the mix with all the rest of these guys and see how it works out. He'll be here over the summer, which is another plus and I think will be very good for him. But I think that there is definitely upside with him, without question. I'm excited about bringing him in, just like we are with all of these guys and I'm excited for all of these guys that are going to be here this summer. All of the guys that we've signed so far are going to be here for a chunk of the summer. We've got 12 guys right now and we've got three left to add to our squad. But the 12 we have will be here at some point this summer."
Nader helped guide the Hawks to the 2023 National Association of Christian Athletes (NACA) Division I National Championship last season under Head Coach Stephen Cook, Jr.
Hamilton Heights Academy has produced NBA players Shai Gilgeous-Alexander and Nickeil Alexander-Walker and one of Nader's teammates last season was Villanova signee Jordann Dumont.
Nader continued to rise through the recruiting ranks this spring playing for the Rocket City Suns AAU team.
Nader looks to continue the line of successful Trailblazers from Canada in the Coach Franklin era that includes former Golden State Warrior and current NBA G-League player Mychal Mulder, 2019 NJCAA National Tournament MVP Kevin Osawe, 2023 NJCAA All-American Caleb Johnson and more.
Nader joins Gerard Thomas (Henderson, Ky.), Demarien Yates (Somerville, Tenn.), Logan Webb (Linton, Ind.) and Adrian Mosley (West Linn, Ore.) in the Trailblazers' 2023 recruiting class that will be joining seven returning players off of last year's VU team that finished 30-6 and reached the NJCAA National Quarterfinals.
"We'll look at Mathieu at the two positions, point and two-guard and we'll see how he fits with all of the rest of the best players," Franklin said. "I think he has some versatility in where he can play. But we won't know where he fits until we see him out here against live competition. Worst case, he's a good combo guard that can give you minutes at the point and plays at the two. I think if his shot continues to evolve, I think he could end up being a good shooter. Right now, I think he's pretty good. I think he could end up being good if he'll take instruction and get his footwork really consistent."
"He could turn into a guy that adds some pop from the outside shooting the ball," Franklin added. "He may end up being something like when we brought Keith Clemons in here, just a bigger version of that. Keith's first year he came in, played off the ball more and shot the ball well. Then in his second year he evolved into playing the point most of the time. On this team, we'll be looking for those guys who can hit some shots from the outside and really open some things up inside."
"I would like to find another guy who could be a post player," Franklin said of his last three spots available. "A JuCo post, that could mean a six-six, six-seven guy, it just depends. But we need to get another post probably for depth and security purposes if someone were to get hurt at some point. We'll definitely try to get one of those with these last three. Sometimes you are at the mercy of what's available. We're looking and we'll see what comes up but I'd imagine that we'd sign another post before the summer is over."
"After that we'll see," Franklin added. "Maybe another point guard. Maybe another inside guy, if we can get two of them. But maybe if we get a post that we like well enough we might just go after the best available guy that's out there late. In JuCo you are not turning down outstanding players that would fit us in terms of the type of person they are. But I think the most pressing thing for us, right now, is to get another post player."
"Not that we don't like the guys that we have," Franklin said. "We like the guys that we have and I think our inside guys will be very competitive. But from a depth and security standpoint against injury, we need to get another one, maybe two of those guys. But one for sure that we feel good about. You are always just looking for good players. Especially when you are a place like us that is not just going to take anything in terms of guys. They have to be the right kind of guy to fit us."
The Vincennes University Athletic Department is excited to welcome Mathieu Nader-Kalombo to the 2023 recruiting class.