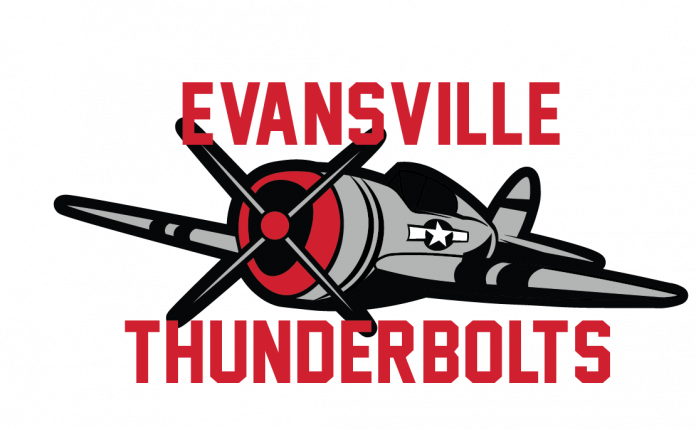 THUNDERBOLTS AIM TO CLINCH PLAYOFFS THIS WEEKEND AGAINST HAVOC, BULLS 
March 15, 2023
Evansville, In.: After a full sweep of their three games over the past weekend against Macon and Peoria, the Thunderbolts are now only three points away from clinching a playoff spot as they enter their second of three consecutive weekends of three games each, beginning at home against the Huntsville Havoc this Thursday, followed by a road contest at Birmingham on Friday, before hosting the Bulls on Saturday night.
Week In Review: 
Behind a game-tying goal from Brendan Harrogate in the final two minutes and an overtime goal from Conner Jean, the Thunderbolts rallied to defeat Macon 4-3 in overtime on Friday, with Jean scoring an additional goal earlier in the game along with a goal from Scott Kirton.  On Saturday, the Thunderbolts blanked the Mayhem 3-0 with goals from Jean, Alex Cohen, and Hayden Hulton, and 31 saves from Zane Steeves for his second shutout of the season.  On Sunday in Peoria, the Thunderbolts defeated Peoria 3-2 in overtime, with power play goals in the first period from Tanner Butler and Aaron Huffnagle, and the overtime winner from Harrogate.  Trevor Gorsuch was in net for both overtime wins, stopping 35 of 38 shots on Friday and 33 of 35 on Sunday. After the weekend, Huffnagle was named SPHL Player of the Week for his goal and five assists in the three games.  The Thunderbolts climbed into 4th place in the league standings and are only 7 points behind the Birmingham Bulls in 2nd Place, with more games remaining than the Bulls, 1st-Place Peoria, and 5th-Place Knoxville.  Teams who finish in 4th Place or higher will secure home-ice advantage in the first round of the playoffs, guaranteeing two home games for those teams if their first-round series goes to a full three games.  Under the win percentage-based seeding system, the Thunderbolts only need a maximum of 3 more points to clinch a playoff berth and can clinch as early as this Friday.
The Week Ahead: 
 The Thunderbolts host the Huntsville Havoc for their St. Patrick's Day Game on Thursday, and after traveling to Birmingham on Friday night, will host the Bulls on Saturday night for Jurassic Night, all games starting at 7:00pm CT.  Jurassic Night will feature specialty jerseys which will be auctioned off after the game, as well as a beer garden in the Ford Center Corner Club starting at 4pm, along with a Party in the Plaza outside Ford Center featuring live music by Hudsy.  For tickets to Thursday and/or Saturday's games, call (812)422-BOLT (2658), go to EvansvilleThunderbolts.com, or visit the Ford Center Ticket Office. Friday's game can be viewed on SPHL TV with a paid subscription through HockeyTV or can be listened to for free on the Thunderbolts Radio Network via the Thunderbolts MixLr Channel or at EvansvilleThunderbolts.com/fan-center/live .
Coming Soon: 
The Thunderbolts' final regular season home games following this weekend will be on Saturday, April 1st against the Knoxville Ice Bears for Superhero Night, and Friday, April 7th against the Birmingham Bulls for Fan Appreciation Night.  Superhero Night will feature the final specialty game-worn jerseys of the season, which will be auctioned off after the game, and another Party in the Plaza, beginning at 4pm along with a beer garden.  Fan Appreciation Night is all about the celebration of our great fans, with plenty of chances to win prizes.  More details on Fan Appreciation Night will be coming soon.  Playoff information will be coming towards the end of the regular season, as the Thunderbolts continue to work hard on the ice to finish as high in the standings as possible and to secure home-ice advantage in round one.
Scouting the Opponent: 
Huntsville Havoc: 

Record: 29-15-2, 60 Points, 3rd Place
Leading Goal Scorer: Rob Darrar (21 Goals)
Leading Point Scorer: Tyler Piacentini/Sy Nutkevich (50 Points Each)
Primary Goaltender: Max Milosek (3-2-0, .930 Save %)
Thunderbolts 22-23 Record vs HSV: 4-3-0The Havoc split their two-game home set against the Roanoke Rail Yard Dawgs this past weekend, starting with a 4-0 loss to Roanoke on Friday.  Huntsville got revenge on Saturday, defeating the Rail Yard Dawgs 3-1 off goals from Kasey Kulczycki, Tyler Piacentini, and Jamie Bucell.

Birmingham Bulls: 

Record: 31-14-3, 65 Points, 2nd Place
Leading Goal Scorer: Michael Gillespie (24 Goals)
Leading Point Scorer: Michael Gillespie (56 Points)
Primary Goaltender: Austin Lotz (20-6-2, .906 Save %)
Thunderbolts 22-23 Record vs BHM: 1-3-1
The Bulls swept their two-game home set against the Fayetteville Marksmen this past weekend,  winning 5-2 on Friday night and 5-1 on Saturday night.  Friday's win featured a hat trick from Michael Gillespie, along with other goals from Matt Wiesner and Scott Donahue.  On Saturday, the Bulls got goal scoring from Donahue, Jared Bethune, Taylor Brierley, Dylan Johnson, and Chase Carter.
Call-up Report 
                 – Chase Perry – Allen Americans (Prev. Greenville) – ECHL
                                – Greenville: 2 GP, 1-0-1, 1.93 GAA, .944 Save %
– Allen: 12 GP, 8-4-0, 3.37 GAA, .907 Save %
– Matthew Barron – Trois-Rivieres Lions (Prev. Indy) – ECHL
– Indy: 4 GP, 2 G, 1 A, 3 P, 0 PIM
– Trois-Rivieres: 29 GP, 4 G, 3 A, 7 P, 8 PIM
                – Mike Ferraro – Savannah Ghost Pirates – ECHL
– 6 GP, 2 G, 2 A, 4 P, 6 PIM
                – Dillon Hill – Trois-Rivieres Lions – ECHL
                                – 13 GP, 1 G, 2 A, 3 P, 16 PIM
                – Cameron Cook – Trois-Rivieres Lions – ECHL
– 13 GP, 0 G, 2 A, 2 P, 11 PIM
Transactions:     
Wed. 3/15: D Sam Sterne signed to professional tryout
Mon. 3/13: D Bryan Etter returned from call-up to Indy (ECHL), placed on waivers
Fri. 3/10: C Conner Jean signed to contract
Fri. 3/10: RW Jack Sampson placed on waivers
Individual game tickets and group packages are on sale for this 2022-23 season.  Season tickets for the 2023-24 season are also now on sale.  Call 812-422-BOLT or visit our all-new website (www.evansvillethunderbolts.com) for details.
About Evansville Thunderbolts: The Evansville Thunderbolts is the area's only professional hockey team. The Thunderbolts are a proud member of the Southern Professional Hockey League (SPHL). The team is owned and operated by VW Sports, L.L.C, a subsidiary of VenuWorks, Inc. www.evansvillethunderbolts.com
###