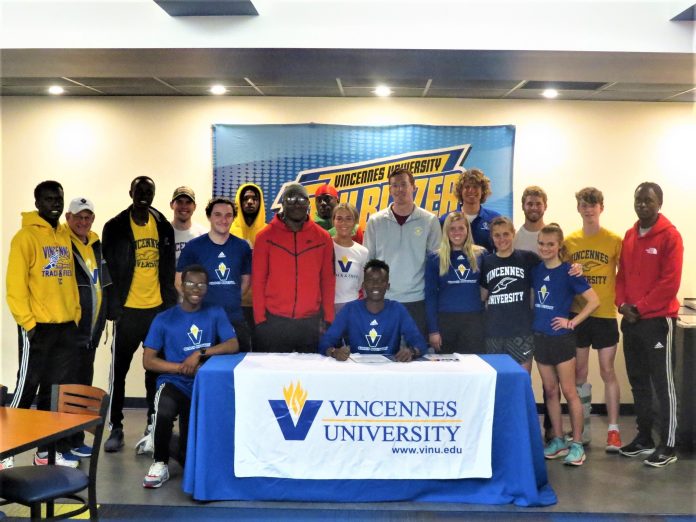 VINCENNES, Ind., June 16, 2022 – The Vincennes University Board of Trustees during its June 13 meeting in the Shake Learning Resource Center, heard reports from staff and faculty about the robust camps and pre-college programs VU is hosting this summer for youths from throughout Indiana. Many of whom are from communities historically underrepresented in higher education.

VU offers a broad range of enrichment programs and camps focused on science, technology, engineering, mathematics, sports, and more. A number of the educational experiences and adventures are at no cost to youths and their families, thanks to many generous supporters, including Lilly Endowment Inc.

VU's academies, programs, and camps introduce K-12 students to university life, college-level study, and opportunities to explore their interests. Students expand their educational horizons and immerse themselves in unique hands-on learning environments. Outside the classroom, they enjoy fun activities and make friends from all over Indiana and other states.

Many of the academies, programs, and camps are multi-day, residential experiences with students staying overnight in residence halls on the Vincennes Campus.

Trustees heard reports from individuals detailing VU's new Techmester along with XMester, Surveying Technology Summer Camp, STEM Academies, Upward Bound, Upward Bound Olympiad, Jobs for America's Graduates (JAG) Summer Academy, and basketball, baseball, and volleyball camps.

The first-time Techmester took place on the Vincennes Campus last week. The program is for rising high school seniors interested in career and technical education. The four-day program is supported by a $2.5 million grant from Lilly Endowment Inc. Students engaged in project-based activities related to advanced manufacturing, automotive technology, and other industries plus earned college credit.

Techmester was in conjunction with XMester, which has been around for over a decade. XMester is for rising high school seniors interested in liberal arts, business, and law. Like Techmester, students earn college credit while engaging in hands-on projects.

The Vincennes Campus and VU Jasper Campus will host new STEM academies for students in the 7th through 12th grades between June 21 and July 1. Students will learn about coding, first aid, blood typing, programming robots, radio circuitry, building surveying, hydroponic food production, bat identification, electrofishing, CPR, watershed quality analysis and management, Internet of Things, and more. High school juniors and seniors will earn two college credit hours after successfully completing the academy. The academies are supported through a Lilly grant.

"I appreciate all the great work our people are doing," VU President Chuck Johnson said. "A lot of things are coming together. We have the benefit of support from donors, like the Lilly Endowment, and we have amazing work by the people on the ground to use those dollars in a way that has an impact."

The Trustees also heard a positive enrollment report.

VU has seen an increase in admitted students across campuses for Fall 2022, according to Director of Admissions Ryan Barbauld. In his report to the Board, he said the number of

admitted students has risen at the Vincennes and Jasper campuses compared to Fall 2021.

"We are cautiously optimistic that we could have a really good fall given our increase in admitted students,"  Barbauld said. "In addition to that, we are seeing some great numbers with our Start VU events."

The number of students attending Start VU, a one-day registration event, has increased since 2021, according to Barbauld. More students attending Start VU are also registering for classes compared to last year.

Barbauld also reported on how the Admissions team is preparing for the Spring 2023-Fall 2023 recruitment efforts.

Senior Director of Institutional Effectiveness and Research Dale Pietrzak gave a Higher Learning Commission update. He told the Board that an HLC reviewer provided a "very positive" report during a multi-site visit and indicated several areas of strength.

"HLC is really important for us," Pietrzak said. "It is a badge of quality. It shows the quality of education we provide as an institution."

In other Board business, the Trustees honored Student Trustee Dustan Jones of Mount Carmel, Illinois. Johnson presented the Board's resolution of appreciation for the outgoing Trustee for his dedication and service. Jones begins his pre-veterinary and medical science studies at the University of Illinois Urbana-Champaign in the fall.

Johnson also commended Advanced Internship in Manufacturing (AIM) Site Director Caleb Wayman. Wayman was recognized as an emerging leader under 30 years of age and named to the Conexus Indiana Rising 30 Class of 2022.