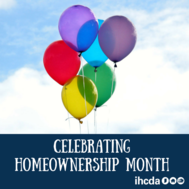 This week we're sharing recommendations for potential homebuyers, as well as pitfalls to avoid. For more information on our homeownership programs.
Do: Keep track of your credit score. Your credit history and current credit score is a major qualifier for a mortgage. Free consumer websites are available to help track your credit.
Don't: Expect that your lender will use the exact credit scoring models as consumer sites. Lenders utilize stricter credit scoring models than most consumers sites. Ask your lender what steps you need to take to improve your credit score.
Do: Seek pre-approval from one of IHCDA's participating lenders if you are ready to pursue purchasing a home.You can find a list of our participating lenders.
Don't: Go house-hunting prior to getting a mortgage pre-approval or without a licensed real estate agent. Getting pre-approval first will help you determine the budget for your home purchase, and a licensed real estate agent can help you navigate the current housing market.
Do: Save money for unexpected costs during the purchase of the home, such as home inspections and moving costs. Your savings will also help with the burden of an unexpected expense such replacing a water heater.
Don't: Assume you need to put 20% down on the home. The most common loan types can require as little as a 3-5% down payment. Contact one of our participating lenders to get more information on the different options available.
Do: Maintain steady employment with the same employer. Loss or change in income can affect your mortgage approval.
Don't: Make any big purchases on a credit card or finance a new line of credit during the process of purchasing a home. Taking on more debt can have a negative impact to your credit score and can affect your mortgage approval.