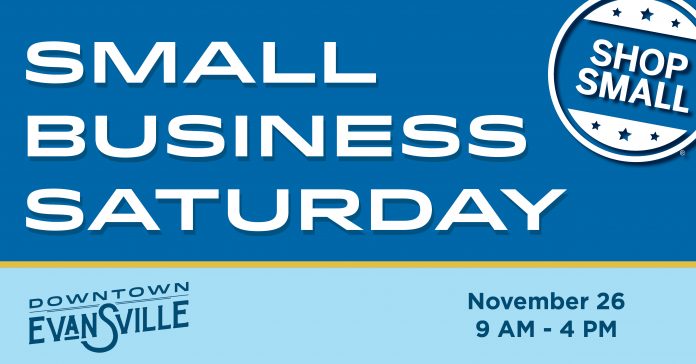 Support Small Businesses in Downtown Evansville
The Downtown Evansville Economic Improvement District (EID) celebrates the 13th Annual Small Business Saturday® on Saturday, November 26 from 9 AM – 4 PM in Downtown Evansville.
"We emphasize the importance of shopping small year-round, but the most important shopping day of the year for our shops is Small Business Saturday," said Josh Armstrong, EID president. Shopping small supports real economic growth in our community through jobs, business ownership opportunities, and tax base, and an average of two-thirds of every dollar ($0.67) spent at a small business in the U.S. stay in that local community.1"Many of our Downtown businesses search out local products and ingredients, magnifying the economic impact of consumers choosing small businesses," he added.
The EID will distribute maps and limited-quantity custom Shop Downtown bags, courtesy of Romain Cross Pointe Auto Park, at 318 Main Street. Also, the EID will be selling Downtown Evansville branded attire, including special Christmas items as well. Individual stores will feature specials throughout the day, and unique specialty vendors with items ranging from clothing to baked goods will be located along Main Street from 2nd to 6th Streets. Brick-and-mortar merchants will also have a limited supply of free tote bags for shoppers, courtesy of American Express.
"Shoppers will be serenaded with live music through the event," Armstrong added. "Make a day of it – shop, take family photos at our holiday displays, and enjoy great food and drinks from our over forty restaurants, bars, and cafes," he suggested.
Visit DowntownEvansville.com/ShopSmall or Downtown Evansville Indiana on social media for individual shop and restaurant sales and specials. Consumers can learn more about Small Business Saturday and how to get involved by visiting ShopSmall.com.