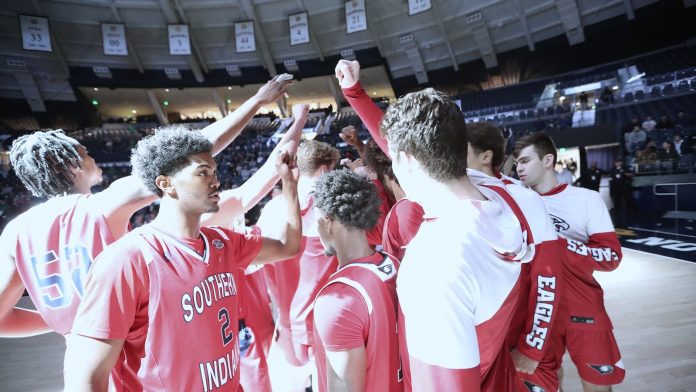 EVANSVILLE, Ind. – University of Southern Indiana Men's Basketball returns to the road to complete play in the Gotham Classic by visiting St. Bonaventure University Tuesday and Bowling Green State University November 26. Tipoff Tuesday at St. Bonaventure is set for 6 p.m. (CST), while the start time at Bowling Green next Saturday is set for 3 p.m. (CST).
 
The games will be streaming on ESPN+ in addition to being heard on ESPN 97.7FM (http://listentotheref.com) and 95.7FM The Spin (http://957thespin.com).
 
USI was 1-1 last week, falling on the road at the University of Notre Dame, 82-70, to start action in the Gotham Classic and winning at home over Loras College, 87-55, at Screaming Eagles Arena. Senior guard Jelani Simmons (Columbus, Ohio) led the Eagles for the week with 13.0 points per game, including a 21-point performance in the win over Loras.
 
Senior forward Jacob Polakovich (Grand Rapids, Michigan) followed with 12.0 points and 8.0 rebounds. Polakovich made his 2022-23 debut at Notre Dame by posting a double-double, 16 points and 10 rebounds.
 
Last week's double-digit performers were rounded out by graduate forward Trevor Lakes (Lebanon, Indiana) and junior guard Tyler Henry (Brooklyn, New York) with 10.5 points per game each. Lakes had a team-high 21 points at Notre Dame, while Henry had a season-high 19 points in the win over Loras.
 
For the season, Simmons has a team-best 16.8 points per game to lead four Eagles in double-digits. Polakovich has 12.0 points per contest in his two games to follow Simmons, while Lakes and Henry are posting 11.3 points per outing in four games.
 
The visits to St. Bonaventure and Bowling Green are the start of a four-game road swing for the Eagles. Following this week's action, the Eagles make stops at Western Illinois University November 30 and at Chicago State University December 4.
 
USI will not return to the friendly surroundings of Screaming Eagles Arena until December 7 when the Eagles host Anderson University (IN) at 7 p.m. to start a two-game homestand. The Eagles will finish the homestand December 11 when they welcome Indiana State University for a 3 p.m. contest.