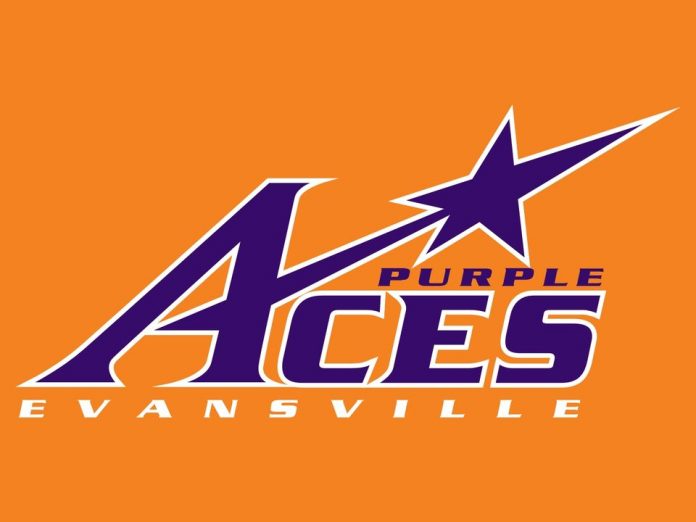 EVANSVILLE, Ind. – University of Evansville junior starter Nick Smith combined with relievers Michael Parks and Nate Hardman to strike out nine men on Friday and allow just five base hits, as the host Purple Aces beat the visiting Purdue Boilermakers, 5-2, in the series-opener at German American Bank Field at Charles H. Braun Stadium in Evansville.
"I thought the entire team gave a great effort in the elements today," said UE head coach Wes Carroll.  "Our pitching really attacked the zone, and Nick Smith gave us another quality start.  I was also really proud of our offense today.  I thought that we had a great approach going into the game, and we executed very well today."
With temperatures barely in the 40s and a constant 15-20 mile-per-hour wind out of the northwest, pitching was the story of Friday's game.  Smith (2-3) allowed just two runs on three base hits in 6.0 gritty innings of work.  He finished his outing retiring 11 of the final 12 men he faced, allowing just a single walk in that stretch, but bouncing back to induce a double-play ground ball to quickly retire the runner.
Parks then came on out of the UE bullpen and allowed doubles in both the seventh and eighth innings, but did not allow either runner to advance past second base.  Hardman then came on to record his first save of the year with a perfect ninth inning of work.
While UE's pitching was sharp all game, Purdue's pitching staff struggled with control early and Evansville's offense was able to take advantage.  After the Boilermakers scratched across a run in the top of the first inning, UE immediately responded with three runs in the bottom of the first thanks to some wildness from Purdue starter Aaron Suval (2-1).  Suval walked three of the first five men he faced to load the bases with two outs in the first.  Junior catcher Brendan Hord then knocked a two-run single to left field, and junior second baseman Kip Fougerousse followed with an RBI single up the middle to give UE a 3-1 lead.
Purdue would cut the lead to 3-2 in the third inning on an RBI ground out by second baseman Paul Toetz, but UE would once again take advantage of some Purdue wildness to tack on two insurance runs in the fourth inning.  UE loaded the bases with no one out in the fourth on back-to-back walks and a single by junior shortstop Simon Scherry, before a hit-by-pitch and a walk pushed across a pair of UE runs.  Evansville's pitching took it from there, not allowing a Purdue base-runner past second base the rest of the game.
Hord led Evansville offensively by going 3-for-5 with a double and two RBI.  Fifth-year first baseman Chase Hug also went 2-for-2 and reached base all five times to raise his on-base percentage to .618.  Hug entered the day ranked ninth in NCAA Division I college baseball in on-base percentage.  Scherry and Fougerousse accounted for Evansville's only other hits on the day, but UE worked 10 walks, as eight of the nine UE starters reached base in the contest.
With the victory, Evansville improves to 11-7 overall, and the Purple Aces have now won 11 of the last 13 contests.  Purdue, meanwhile, slips to 9-8 with the loss.  The two teams are scheduled to continue the series on Saturday afternoon at 2 p.m., with UE planning on sending senior LHP Tyler Denu (2-0, 3.66) to the mound.  Saturday's game can be heard live in Evansville and on-line on 107.1 FM-WJPS.