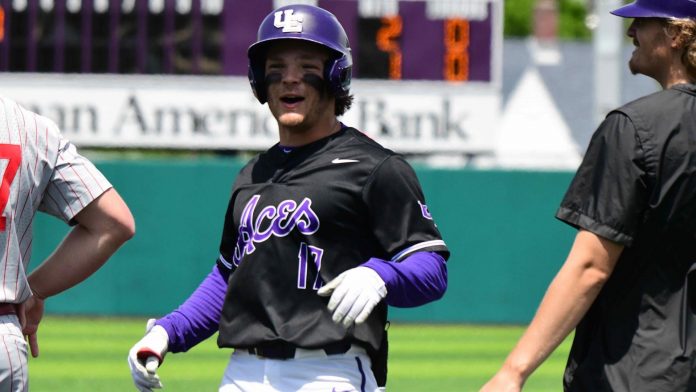 EDWARDSVILLE, Ill. – University of Evansville junior catcher Brendan Hord blasted two home runs, and fifth-year outfielder Eric Roberts and senior third baseman Brent Widder homered as well, as the Purple Aces' baseball team extended its winning streak to six games with an 11-7 win at Southern Illinois University-Edwardsville on Wednesday night.
"We were able to put together a couple of big innings tonight, led by Brendan Hord, who had a great game" said UE head coach Wes Carroll.  "This is a great mid-week win on the road against a very good SIUE ballclub.  Now, it's on to Valley play this weekend."
Hord pounded out four base hits, including home runs in back-to-back at-bats in the third and fourth innings to help fuel back-to-back four-run frames by UE.  Roberts set the tone for the game with a home run deep to right field on the second pitch of the game, and Widder followed Hord's first home run of the game with a two-run home run of his own to help UE build a cushion it would never lose.
UE jumped out to a 5-0 lead thanks to the lead-off home run by Roberts, and the home runs by Hord and Widder as part of a four-run third inning.  After SIUE responded with two runs of its own in the bottom of the third inning, Hord put the game out of reach with his second home run in as many at-bats with a three-run home run to left field.  Widder added an RBI single in the four-run fourth inning to push UE's lead to 9-2.
SIUE would scratch across single runs in the fourth, fifth, and seventh innings to get back with four at 9-5.  UE was able to get one run back on a sacrifice fly by junior shortstop Simon Scherry, but the Cougars countered with a two-run home run of its own to cut UE's lead to 10-7 in the eighth inning.
Evansville would not flinch though, as junior second baseman Kip Fougerousse came through with a two-out RBI single in the top of the ninth inning, and then junior reliever Nate Hardman worked around a lead-off double to strike out the side and give UE the 11-7 win.
All nine starters for UE reached base safely, with Hord going 4-for-6 with two runs scored and four RBI to pace UE's 10-hit attack.  Widder also added two hits and three RBI.  Graduate student Jarrett Blunt (3-0) picked up the victory in a scheduled short-start with 3.0 innings of work, allowing just two runs on three hits.
With the victory, Evansville improves to 13-7 overall and the Purple Aces have now won six games in a row and 13 of the last 15 games overall.  SIUE, meanwhile, falls to 13-6 overall.  The Purple Aces will remain on the road this weekend, as UE will travel to Springfield, Missouri to open up Missouri Valley Conference play against reigning MVC Tournament champion Missouri State.  The series will begin now on Saturday with a noon doubleheader, as the forecast for rain has changed the series to a two-day battle.  The series will conclude on Sunday at 1 p.m.  All three games of the weekend series can be heard live on 107.1 FM-WJPS and the Old National Bank/Purple Aces Sports Network.