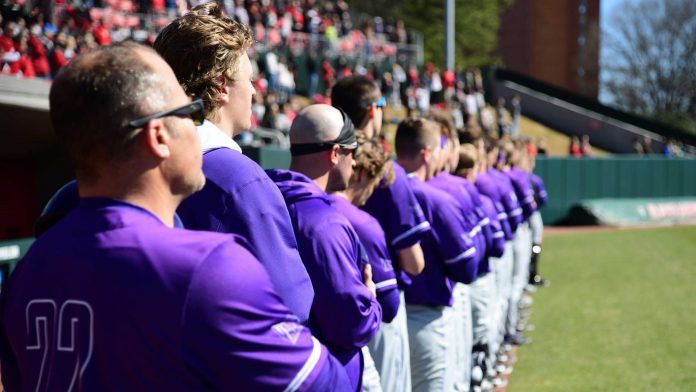 BLOOMINGTON, Ind. – Coming off a come-from-behind win over WKU on Tuesday night, the University of Evansville baseball team team travels to Bloomington, Ind. for a three-game series with Indiana on Friday, Saturday, and Sunday.
Previewing the Matchup: Indiana
The Aces and Hoosiers are meeting for the 48th time when the two sides battle on Friday evening with Indiana owning a 29-18 advantage in the all-time series.
The last time the two sides met, Evansville captured a 5-4 win over Indiana on opening night of German American Bank Field on March 10, 2020 in the last game before the COVID-19 pandemic for both teams.
Both sides enter the weekend series with 8-12 records as the Aces captured a come-from behind 9-8 victory over WKU on Tuesday night on the road and Indiana dropped three of four to Xavier last weekend.
Comeback Win
On Wednesday night, Evansville battled back from a late 7-4 deficit on the road at Western Kentucky.
The Aces scored five runs in the ninth, capped-off by a three-run go-ahead homer from Chase Hug, helping UE capture a 9-8 win.
Rumsey on the Charge
A highly coveted addition to the Aces roster this season, freshman outfielder Ty Rumsey has begun to find his footing.
After getting his rhythm, Rumsey has begun to show his potential, sitting fourth on the team with a .283 average and generating seven walks.
Craig Eyes Career Record
In his four seasons with the Aces, Tanner Craig has proven to be one of the most impactful hitters in the MVC.
Craig enters the week just three home runs shy of the Evansville program record, set by Jeff Starks in 1982 with 40 homers.
Craig currently sits in a tie for second in program history with 37 homers, hitting seven so far this season.