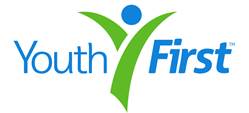 Youth First recently hosted a ribbon cutting to mark its 25th anniversary and kick off a year of celebrations.
Founded in 1998, Youth First celebrates 25 years of strengthening the mental health and well-being of young people. Today, over 50,000 students in 117 partner schools across 13 Indiana counties have access to 83 Youth First Social Workers and hundreds of prevention programs. These specialized mentors and evidence-based programs strengthen thousands of youth and families every year.
The milestone year ahead will include a celebratory gala and the anniversary edition of the organization's signature auction and an awards reception honoring youth and educators. These events will also honor the donors and community partners who have supported Youth First over the years.
Featured speakers at the ribbon cutting include Leah Wentzel Barger, a young adult whose life was transformed by Youth First's support; Dr. William Wooten, Youth First Founder; Evansville Mayor Lloyd Winnecke; Jon Scheer, Edward Jones Financial Advisor; Cheryl Wathen, Deaconess Health System Chief Financial Officer and Youth First Board Chair; and Parri Black, Youth First President & CEO. Youth First Board Members, staff, and Evansville Regional Economic Partnership (E-REP) ambassadors will be in attendance, and light refreshments will be served.
The ribbon cutting will formally announce the upcoming Silver Lining Gala Celebrating Youth First's 25th Anniversary presented by Edward Jones, to be held on Saturday, April 22, at USI's Carter Hall. The gala will feature an anniversary edition of Youth First's Passport to Adventure auction as well as a formal dinner, program, dancing, and other entertainment. The event commemorates Youth First's 25th anniversary by honoring the supporters who have enabled Youth First to be the silver lining for vulnerable young people burdened by clouds of sadness, adversity, and uncertainty. Tickets and event sponsorships are available.