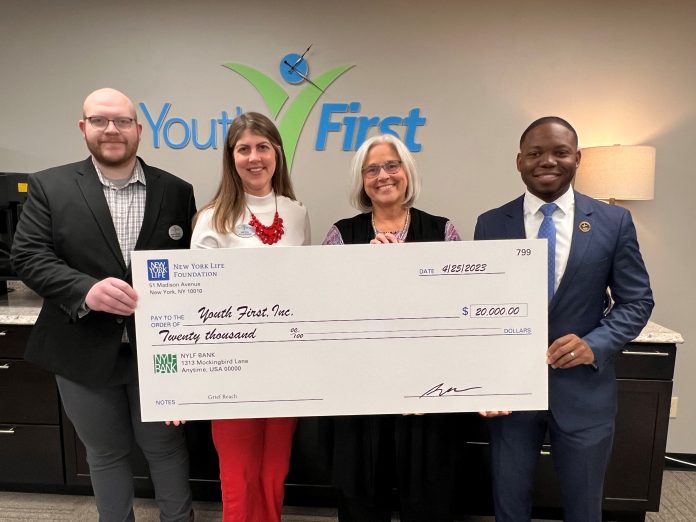 Youth First, Inc. Receives $20,000 from the New York Life Foundation
Grant to Provide Training to Support Bereaved Youth
MAY 23, 2023
Youth First, Inc., a leading nonprofit that transforms and strengthens the lives of young people and their families by providing Master's level social workers in area schools and prevention programs for youth and families, received today a $20,000 Grief Reach Grant from the New York Life Foundation.
This support provides training that will strengthen Youth First's capacity to assist children who experience the death of a loved one. Youth First serves at least 1,400 bereaved children a year through school-based social work services and programs.
"Due to the increased need to effectively provide bereavement services to a recovering pandemic society, we decided to dedicate this cycle of our Grief Reach Grants to capacity building," said Maria Collins, vice president, of New York Life Foundation. "The Grief Reach grants will help nonprofits to focus on overall organizational sustainability while meeting the challenges of increased demand for bereavement support."
"We are so grateful for this grant because it will increase our team's ability to care for kids with greater skill and compassion," said Parri O. Black, Youth First's President & CEO. "Grieving students who receive effective support are more likely to make healthy decisions, re-engage at school, and focus on hopeful futures."
The New York Life Foundation created the Grief Reach program to increase capacity and access to grief support by investing in local resources and services. Over 400 Grief Reach grants totaling nearly $14 million have been awarded since the program's inception in 2011. The New York Life Foundation has been one of the leading funders of the childhood bereavement field, investing more than $70 million to date in support of grieving children and their families.
Youth First embeds prevention programs and 83 skilled mental health professionals in 117 school buildings across 13 Indiana counties, where they become specialized mentors for students and prevention coaches for parents and teachers. Youth First Social Workers build caring relationships, foster readiness for positive change, and boost resiliency along with other valuable life skills.
Research shows that building these protective factors in young people reduces risk factors and is essential to preventing addiction, violence, suicide, and similar tragic outcomes. The organization's positive work and strategies are driving growth, with more schools seeking Youth First's help to address the growing need for mental health support for students.
About Youth First, Inc.:
Youth First's mission is to strengthen youth and families through evidence-based programs that promote mental health, prevent substance misuse, and maximize student success. Youth First partners with 117 schools across 13 Indiana counties to provide prevention programs and 83 Master's level social workers who assess needs, develop and implement prevention plans, and connect students and their families to vital resources. Youth First also offers community programs involving parents and caregivers to strengthen families. For more information about Youth First, please visitityouthfirstinc.org.
About the New York Life Foundation:
Inspired by New York Life's tradition of service and humanity, the New York Life Foundation has, since its founding in 1979, provided over $415 million in charitable contributions to national and local nonprofit organizations. The Foundation supports programs that benefit young people, particularly in the areas of educational enhancement, childhood bereavement, and social justice. The Foundation also encourages and facilitates the community involvement of employees and agents of New York Life through its Volunteers for Good and Grief-Sensitive Schools programs. To learn more, please visit www.newyorklifefoundation.org.