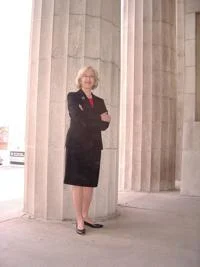 With Abortion All But Banned, Sue Errington Doesn't, Can't, Won't Give Up
Her coming-of-age tale starts with a tiny Indiana town, a narrow religious upbringing, and a conservative family where men were men and women were women.
Even as a little girl growing up in Atwood, Indiana, Rep. Sue Errington, chafed under the traditional gender roles she was expected to abide by—for example, having to iron clothes inside when she would rather have been cutting grass outside. "I wanted to be me," she says
She always felt different. Later, her mother would blame her for going away to college for this difference that had always been there. "You should have been born a boy," her mother liked to say. Quietly at first, and then louder, her daughter asked, "Why?"
Through education and hard work and tenacity, the small-town girl eclipsed her past, rose to a position of power to help girls like she had been, became a figure of liberal inspiration as an activist, organizer, and lawmaker.
And there the book would end with an implied happy ending like a leftie "Girl of the Limberlost"—except it's not a book. It's Rep. Sue Errington's life. And now comes a plot twist in the waning chapters.
Eighty-year-old Errington has devoted decades to women's reproductive rights, from grassroots activism to Planned Parenthood to the limestone halls of the Indiana Statehouse, where she's arguably the Democratic face of the issue. Now she's watching Senate Bill 1, which calls for an almost total ban on abortion in Indiana, unravel that lifetime of work.
"I guess I'm over the shock," she says. "But I'm really mad about it, sad. And I want to fight back."
And that's about as much emotion as you're going to get out of Sue Errington. If you're expecting to find her depressed, discouraged, or even just tired in her bones at this moment in history, you'll be disappointed.
On June 24, when the U.S. Supreme Court finally announced its overturning of Roe v. Wade after a leaked draft opinion earlier in the summer shocked many Americans, she was at home in Muncie. Her first thought was about Indiana inevitably following suit and her very limited ability to stop it.
As a Democrat, Errington is in the super minority at the Statehouse—and as a certain Hoosier pundit likes to remark, the Democrats don't have enough power in either chamber to even call for a bathroom break. Sure enough, SB 1 cruised through Senate committee this week, and while the pushback of Democrats and pro-abortion protesters was passionate and loud, it has so far been futile. The bill is widely expected to become law before the special session must end on Aug. 14.
And yet, this isn't a story about Errington lying down in traffic or withdrawing into bitter retirement. Her second thought, after her superior status, was about getting to back work.
"She's super principled," says her 20-something press secretary, Anna Groover. She remembers a professor during her freshman year in college telling her class that the most successful students show up every day no matter what. They don't even give themselves the option of skipping because permission is a slippery slope a lot of people can't help sliding down. It's the best metaphor she can think of for her boss.
"It's hard as a young person, it's hard to grasp the potential timeframe of having to fight over these basic issues. I grew up with it settled, and it's no longer settled," Groover says.
"When it was settled, she still showed up."
Errington has been showing up since her own college days, which put her on the campus of Indiana University and then the University of Michigan during the Vietnam era. She attended the latter university's first teach-in, listened to student radicals like Jerry Rubin, and wondered at how very far she'd traveled from Atwood, Indiana.
After graduating from high school, when she sat for this portrait, Rep. Sue Errington spent formative years on the campuses of Indiana University and the University of Michigan, where the Vietnam War and other issues birthed a generation of activists.
There, she had been the oldest of four children wishing she could mow the lawn with her brothers while getting stuck ironing with her sister. The gender norms were observed and church-going was mandatory, though her dad was more likely to question a sermon's message at Sunday lunch. During his childhood in Lexington, Kentucky, he had witnessed the Ku Klux Klan burn a cross on a neighbor's yard, and it had shocked him into more independent thinking. "You're your dad's girl," her mom would say.
While dipping her toe into political activism, Errington studied Spanish and eventually would become a teacher. She married and had two daughters of her own, settling in Muncie. But an early edition of Ms. Magazine helped crystalize what her life's passion would be. In 1973, when Roe was passed, Ms. ran a jarring black and white police photo of a woman killed by illegal abortion. The message: Never go back.
"That really affected me," Errington says. "She's crouched there on the floor. I mean, it's stark, stark. It's just engraved on my mind. That's what happened then."
Rep. Sue Errington in her 20s. She studied Spanish in school and taught it at the college level before her interest in women's issues and politics became the focus of her career.
She carries the images of other women as well. Errington soon landed at Planned Parenthood of Indiana and Kentucky, where she served as public policy director for 17 years before deciding she might effect greater change by switching sides of the table. She spent four years as a state senator before becoming a state representative in 2012.
There was the trio of high school girls she saw in the Muncie Planned Parenthood parking lot, three abreast, the middle one crying as the other two tried to soothe her. She didn't get here soon enough, Errington remembers thinking. It's already too late.
There was the girl from the wrong side of town with no mom, a college scholarship and accidental pregnancy. She was too young to get an abortion without parental permission and too frightened to ask her father. She would be in her 40s now. Errington still wonders what became of her.
There was the pregnant woman who had learned her fetus was so malformed it would die as soon as it was born but who could not afford the procedure to terminate. The Planned Parenthood staffers rummaged through their purses to come up with the amount.
At the Statehouse, with these and many others in mind, she tends to favor environmental and reproductive rights policies. A notable recent victory was the passage of a bill she co-authored closing a legal loophole in the state's rape laws. Less victoriously, her sex education bill failed, not for the first time—but she plans to bring it back.
"When times are tough, you can't put your head down"—that's probably the biggest lesson Errington has taught her, says Aimee Robertson-West, a Muncie activist who serves as local point person for Women's March.
"It's grit. What else can I call it," she says. "She has laid out a roadmap for people like me to really meaningfully help people. She views every person as worthy of getting respect, and it doesn't make a difference if they disagree or have even slandered her."
Errington represents District 34 in Delaware County, where more than 55% voted for Trump in the last election. She's on the ballot again this November, and it's not unusual to spot her walking Muncie neighborhoods delivering her own campaign signs. She's spoken at all the local rallies since the Roe announcement.
Errington answers her phone, Robertson-West says—always.
"She works really hard to maintain relationships, and in this work, she finds fulfillment and connections," she says. "To me, she is like the epitome of who I want to be when I grow up … the patience and care and grit."
Here, perhaps, is the key to understanding Sue Errington in this moment, when so many others sharing her views feel angry and hopeless: She always loved the mother who didn't understand her. She loved her family and wanted them to be close, so she made it a rule they could never talk politics. And it worked.
"We were able to keep the politics away from the personal, so I think that helps me as a legislator," she says. "Having grown up at odds ideologically with my mother but being able to have a relationship, a good relationship—I think it helps me work across the aisle."
For Errington, life isn't a book with clear heroes and villains and a plot tying up all loose ends. People and movements are more complicated than that.
"My entire time in the state legislature, I've been in the minority. You don't get discouraged. When something happens, I get reinvigorated," she says.
"Years ago, I was told by a friend when I was really discouraged that making change is not a sprint, it's a marathon, and that has stuck with me, and I think that keeps me working.
"I guess sometimes it takes more than one lifetime. You have to hand the baton. But keep going."
FOOTNOTE:  Colleen Steffen is executive editor of TheStatehouseFile.com, a news website powered by Franklin College journalism students. Prior to stints in journalism higher education, marketing/public relations, and consulting, she spent 13 years as a reporter and editor at newspapers in three states. 
The City-County Observer posted this article without bias or editing.