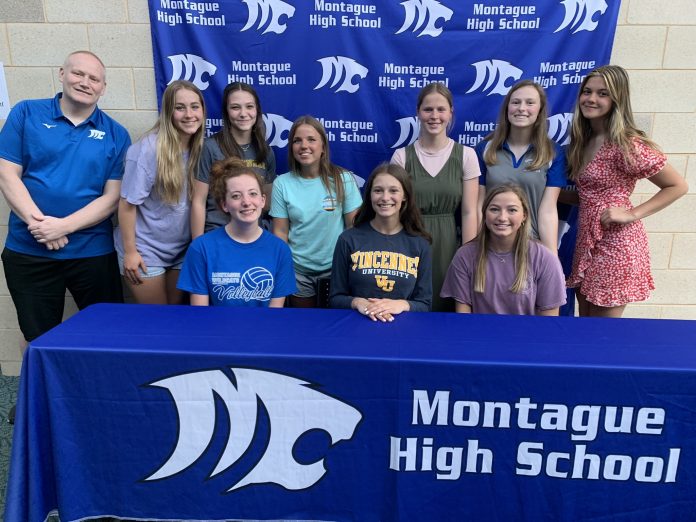 VINCENNES, Ind. – The 2021 Region 24 Champion Vincennes University Volleyball team picked up their second player from VU's Val/Sal program this week as Montague High School Salutatorian Morgan Netcott joins the Trailblazer volleyball program.
Netcott is a five-foot-six libero from Montague, Mich., becoming the first Trailblazer volleyball player from the state of Michigan.
Netcott finishes out her senior season at Montague with 614 digs and 47 service aces, ending her high school career with 1,545 digs and 105 aces.
Netcott helped guide Wildcats to a record of 86-51 during her four-year career, with a very impressive 43-4 record against West Michigan Conference opponents, including two conference championships and the 2019 Division Two District Championship.
Netcott was twice named to the All West Michigan Conference team and the All Area Team, while also being named to the Muskegon Chronicle's Dream Team of the top 12 players in the Muskegon Area last season.
"Morgan is an intelligent and instinctive player," Montague Head Coach Shawn Bectel said. "She is knowledgeable and has a great ability to read the offense and anticipate the play. Morgan was a three-year starter and team captain at Montague. She was a strong leader and a great role model to her peers on and off the court."
"Morgan will be a great asset to the Vincennes University Volleyball program and the Montague Volleyball program wishes her continued success as she begins her volleyball career at the collegiate level," Bectel added.
Netcott comes to Vincennes University as an outstanding student, finishing as a class Salutatorian at Montague High School.
Netcott also served as Class President and was the National Honor Society Vice President. Netcott was also a National Qualifier for the DECA competition and placed seventh in the state of Michigan for Public Speaking in the FFA.
"As far as we know, from talking with Assistant Coach Mike Misner, we believe that Morgan will be the first player from Michigan to play volleyball at VU," VUVB Head Coach Gary Sien said. "We've been looking to expand and recruit out into some of the other surrounding states, especially after VU began offering In-State Tuition to students from Kentucky, Ohio, and Michigan, as well as Indiana and Illinois."
"Volleyball-wise, Morgan comes from a pretty strong area," Sien added. "Her high school is typically a very competitive program. She has played with several teammates, both in high school and with the Inside Out Volleyball Club Team, that have gone on to play at a pretty high level. Morgan comes to VU as a very experienced player. Her Club Team is usually one of the top teams in Michigan and they've won a few tournaments last year."
"Morgan is obviously an outstanding student, coming to VU through the Val/Sal program," Sien said. "But Morgan chose to come to VU because we have a great combination of exceptional academics and exceptional athletics. Morgan and her mom visited the campus earlier in the Spring and Morgan committed just a couple of days after her visit. I think Morgan was not really looking to play volleyball anymore because of her high academics, but it really gives credit to Vincennes University and all of our various programs to get someone who wasn't really considering playing unless the situation was just right."
"Morgan also brings the ability to set at little to the team next season," Sien added. "Which will be nice, because last year we really only had two players that could set but this year we have five players that can do a little bit of setting. We don't really have anybody coming back next year that has played libero much, since we've had 2021 Region 24 Player of the Year Grace Earp the past two years."
"I always feel that, at our level, it is very difficult to recruit a high-level libero because the really good ones coming out of high school are usually going Division I," Sien said. "I always feel like we need someone who can pass nearly perfect on serve receive and in my six years at VU we've only ever had one true libero because we weren't able to recruit someone we thought could play at our level. That's when we convert some outside hitters, like Grace, into a libero. It's unusual for us to get someone who we feel can play at this level and we definitely feel like Morgan can."
"One nice thing heading into next season is that we are just so deep as a team," Sien added. "We have Morgan, plus Lara Gomes de Castro returning and another libero coming in. Plus we have hitters that could move over and fill that role if needed. This group of incoming freshmen, along with our returners makes us even deeper than we were last year and we were a pretty deep team."
"Morgan is just a very goal-oriented person," Sien said. "She is very mature and very articulate. We were very impressed with how she was when she came on her visit."
Netcott is the daughter of Bracken and Rachel Netcott and Morgan plans to study Psychology while at Vincennes University.
The Vincennes University Athletic Department is excited to welcome Morgan Netcott to the 2022 recruiting class.