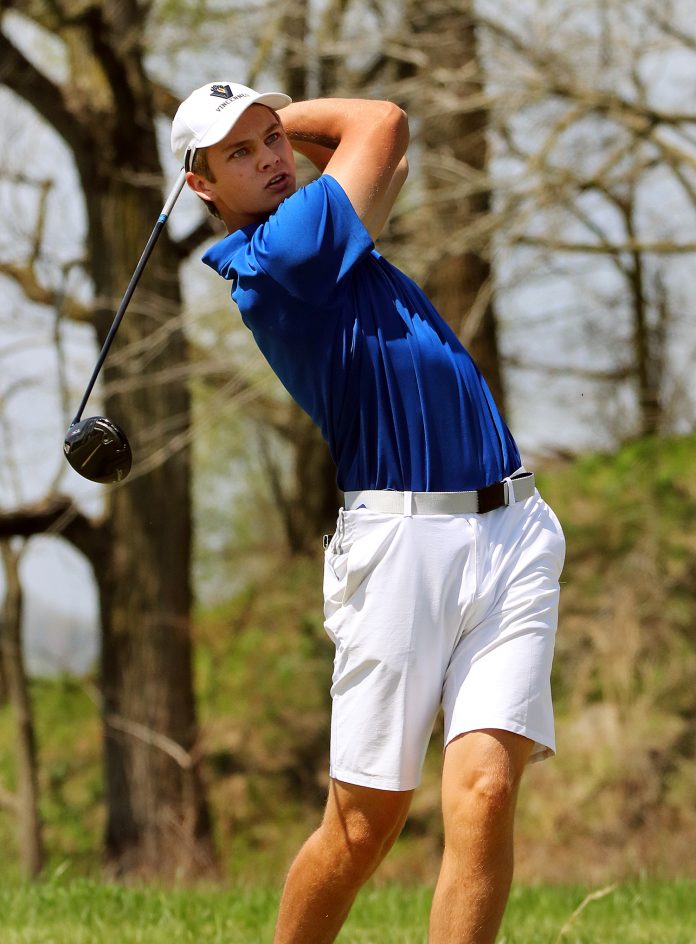 VINCENNES, Ind. – Vincennes University sophomore Luke VanDeventer (Columbus, Ind.) announced Wednesday morning that he will be continuing his collegiate golf career next season at NAIA Huntington University in Huntington, Ind.
"What led me to commit to Huntington was the opportunity to continue my education and golf career at a very high level," VanDeventer said.
VanDeventer is coming off two very good seasons with the VU golf team under NJCAA Hall of Fame Head Coach Dennis Chattin. Luke finished his freshman season with a scoring average of 81.7 and posted a 78.7 average this past season.
VanDeventer wasted little time getting accustomed to college golf, shooting his VU best round in his freshman Spring opener, posting a 75 in the third round of the 2022 Spring Fling in Scottsboro, Ala.
VanDeventer would go on to finish as the team's best scorer at the 2022 Garn Championships, shooting a 238 over the three-round tournament and later earned his first Top-10 finish in college at the Lincoln Trail Spring Invitational.
VanDeventer looked to continue to improve this past season, posting three Top-10 individual finishes this past season, including taking eighth at the Lincoln Trail Spring Invitational, 10th at the Region 24 Preview and seventh at the 2023 Vincennes University Spring Invitational.
VanDeventer closed out his Trailblazer career strong by pacing the VU golf team at the Region 24 Tournament in Bloomington last month.
VanDeventer posted his lowest combined three-round tournament score of his VU career with a 247, placing 12th overall.
"My favorite memory at VU was creating relationships with my coaches and teammates over these past two years," VanDeventer added. "While being on the golf course or off, we were always making memories that I will cherish."
"I feel like Vincennes University gave me every opportunity possible to help maximize my talents both athletically and academically to get me to Huntington," VanDeventer said.
VanDeventer will be joining the golf team at Huntington University under Head Coach Connor Dwyer.
Huntington University's golf program has won seven Crossroads League Conference Championships and twice made appearances at the NAIA National Tournament in 2009 and 2011.
The Vincennes University Athletic Department would like to congratulate Luke VanDeventer on his commitment to continuing his athletic and academic careers at Huntington University and wishes him good luck next season.