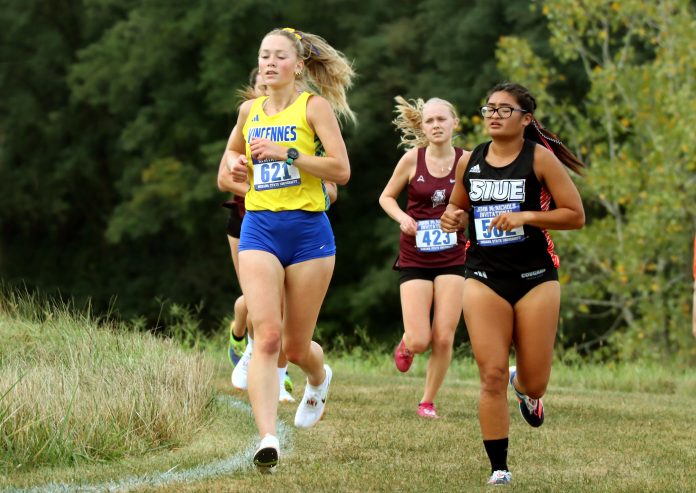 TERRE HAUTE, Ind. – The Vincennes University men's and women's Cross Country teams looked to take advantage of near perfect conditions Saturday morning when the Blazers took part in the John McNichols Invitational hosted by Indiana State University at the LaVern Gibson Championship Course.
VU was one of 18 teams participating in a very stacked field, which included 14 NCAA Division I teams, one NCAA Division II team and two NCAA Division III teams, with the Blazers being the only two-year team running.
The No. 24-ranked VU men's team got the morning started off in a big way with eight of VU's 10 runners setting new PRs.
The Trailblazers were led by sophomore runner Isaac Stanford (Flora, Ill.) who paced the VU runners in a field of 257 runners to finish 87th overall with a time of 25:50.7.
Freshman Cody Noel (Hebron, Ind.) was the next Blazer across the line, finishing the race at 26:38.6, good for 137th overall.
Freshman Caden Hostetler (LaGrange, Ind.), Nathan Whitehead (Vincennes, Ind.) and Tanner Spence (Carmi, Ill.) ran a very tough race as a pack with Hostetler crossing the line at 27:44.8, Whitehead finishing at 27:50.2 and Spence crossing the line at 27:53.3.
Sophomores Griffin Worzella (Martinsville, Ind.) and Matthew Gray (Washington, Ind.) continued the trend of Blazers running very well Saturday morning, with Worzella finishing with a time of 29:05.6 and Gray finishing at 29:39.6.
The VU team was rounded out by freshmen John Hackney (Evansville, Ind.), Max Pendley (French Lick, Ind.) and sophomore Brayden Green (Sumner, Ill.).
Hackney finished the race at 29:58.6, Pendley ended with a time of 30:05.8 and Green closed out the Trailblazer race after crossing the line at 32:05.7.
The Blazers as a team placed 17th against very good competition.
"We were looking for a bit of redemption after a very rough opening meet two weeks ago," VU Head Cross Country Coach Tyler Steigenga said. "Today was set up well with some good weather and great competition. LaVern Gibson is a tough course but we still managed to get PRs for eight of the 10 VU men's runners. In the last three years, today was the best we have ever run at this meet."
"Isaac led the way with a 28 second PR," Steigenga added. "He missed three weeks of running at the end of July, so the season got off to a bit of a slow start. But he showed today that his fitness is coming along nicely. He will be exciting to watch in the coming weeks as he has the potential to develop into a very solid number one runner for us."
"Cody also had a great day, running 1:33 faster than the first race," Steigenga said. "He is in a really solid place as I haven't had a VU freshman run that fast in their second meet. Caden, Tanner and Nathan ran together really well and gave us a solid three through five. Griffin, John and Max had big PRs today too."
The morning concluded at the LaVern Gibson Course with the women's 5k race, which was also a very loaded field of four-year teams and 182 runners.
The VU women's team was led across the line by freshman Lani Baskett (Sebree, Ky.) who placed 150th overall with a time of 21:31.3.
Freshmen Adi Fuller (Evansville, Ind.) and Jasmyn Self (Casey, Ill.) were close behind, with Fuller crossing the line at 22:18.7 and Self ending the race at 22:58.4.
The Trailblazers women's team was rounded out Saturday morning by freshmen Madeline Esslinger (Bloomington, Ind.) and Grayson Haynes (Sebree, Ky.) with Esslinger crossing the line at 23:59.1 and Haynes ended her day with a time of 24:42.3.
"On the women's side, we were without the first and third finishers from the last meet, but we were still able to put together some solid performances," Steigenga said. "Lani led the way with a huge PR and the rest of the girls ran much faster than they did at the opening meet. It will be good to see the whole team back o racing in two weeks."
The VU Cross Country teams will look to build on this early season success in two weeks with their next race when Vincennes takes part in the Live in Lou Classic in Louisville, Ky. Saturday, Sep. 30.
"It's very encouraging to be in such a good place after only our second meet, especially with how young this team is," Steigenga said. "Four of the top five are freshmen for both the men and the women. Two weeks from now, we will have the opportunity to run on a fast course at Louisville and continue to move up in the National rankings."
VINCENNES RESULTS
MEN'S RESULTS
TEAM – 17th, 525 points
INDIVIDUAL RESULTS
Isaac Stanford (87) – 25:50.7
Cody Noel (137) – 26:38.6
Caden Hostetler (179) – 27:44.8
Nathan Whitehead (183) – 27:50.2
Tanner Spence (184) – 27:53.3
Griffin Worzella (201) – 29:05.6
Matthew Gray (209) – 29:39.6
John Hackney (216) – 29:58.6
Max Pendley (218) – 30:05.8
Brayden Green (234) – 32:05.7
WOMEN'S RESULTS
TEAM – 18th, 572 points
INDIVIDUAL RESULTS
Lani Baskett (150) – 21:31.3
Adi Fuller (161) – 22:18.7
Jasmyn Self (165) – 22:58.4
Madeline Esslinger (170) – 23:59.1
Grayson Haynes (174) – 24:42.3