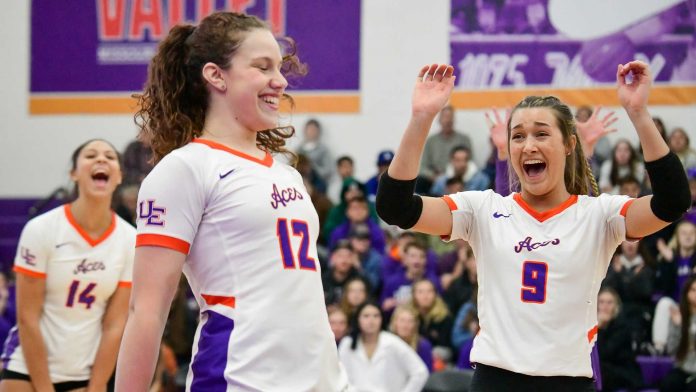 Aces advance to face SIU on Monday
 EVANSVILLE, Ind. – For just the second time since joining the Missouri Valley Conference in 1994, the University of Evansville volleyball team picked up a win in the MVC Championship as the Purple Aces defeated Bradley by a 3-1 final on Sunday at Meeks Family Fieldhouse.
With the victory, UE moves on to face 4th-seeded Southern Illinois at 3 p.m. on Monday.  Giulia Cardona added to her single-season kills record with 25 more on Sunday.  She hit an unbelievable .352 while picking up eight digs.  Alondra Vazquez finished with 10 kills with Madisyn Steele and Emilee Scheumann adding 8 and 6, respectively.  Vazquez tied for the match-high with 13 digs.  Kora Ruff recorded 41 assists and nine digs.  Hannah Watkjins led the way with six block assists with Vazquez contributing four.
Set 1 – UE 25, BU 19
Back-to-back service aces saw the Braves jump out to an early 5-3 lead.  Evansville put forth a relentless charge, going on a 7-1 run to go up 10-6. Emilee Scheumann contributed three kills to put her team on top.  The lead hovered around three points for the Aces when Cardona picked up a kill to make it a 5-point game at 18-13.
Three in a row got the Braves right back into the fold but it was UE with the answer.  Madisyn Steele added a kill and block with Cardona picking up an ace to highlight a 4-0 run that put UE in front at 22-16.  UE completed the set with a 25-19 victory.
Set 2 – BU 25, UE 14
After opening the set with a 9-3 advantage, the Braves extended the lead to 16-6.  Laura Ruiz picked up an ace as UE scored three in a row, but the Braves countered to push the lead back to double figures and would take the set, 25-14.
Set 3 – UE 25, BU 22
In the early going it was Bradley getting the upper hand once again as they jumped out to a 7-4 lead.  Three Giulia Cardona kills tied it up at 8-8 and Evansville would go in front at 11-10 on a Bradley error.  Each time the Aces would take a lead, the Braves answered and would not let the advantage go above a point.  That changed when BU posted four in a row to take an 18-15 edge.
Blakeley Freeman picked up an ace as Evansville rallied to tie the score at 18-18 before Bradley wrestled away a 20-18 edge.  Cardona recorded kill #17 of the night as UE tied it back up at 20-20.  Madisyn Steele and Alondra Vazquez tallied the block that put the Aces in front (22-21) and it would be the defense that had the clincher as Kora Ruff and Hannah Watkins recorded the block that clinched a 25-22 win.
Set 4 – UE 25, BU 16
Evansville's duo of Alondra Vazquez and Giulia Cardona picked up early kills in a 4-1 stretch to open the set.  Cardona and Watkins combined on a block that helped UE extend the advantage to 8-2.  The UE lead remained at six points (12-6) when the Braves reeled off four in a row to get within a pair and later, they would cut the deficit to just one at 13-12.
One of the most important stretches of the season ensued. After the Braves closed the gap, Evansville scored the next three points in a run that saw them outscore BU by a 7-1 margin.  UE clinched the match on the strength of a 25-16 decision to advance to Monday's quarterfinals round against Southern Illinois.  Match time is set for 3 p.m.