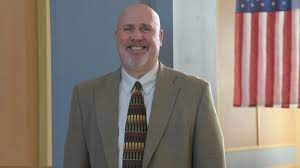 There is a new face on campus this semester. Mark Zimmerman stepped into the role of Dean of Students at Vincennes University on Jan. 3, 2023.
Zimmerman has experience in higher education through various roles with several institutions. Among his previous roles, Zimmerman was an assistant director of judicial affairs and conference services at the University of Southern Indiana and a housing and residence life area coordinator at Western Kentucky University. He also served as a campus police officer at Western Kentucky University. He was an adjunct instructor at Olney Central College and Wabash Valley College.
According to VU Provost Dr. Laura Treanor, "Mark brings a variety of experiences to his role as Dean of Students at Vincennes University. He has a proven ability to work with all individuals throughout a higher education institution."
Most recently, Zimmerman served as a master sergeant in the Illinois State Police. He joined the state police in 2000 and retired in December 2022.
Zimmerman's new responsibilities include serving as a student advocate, building relationships with faculty and staff to assist with the success of students academically and socially, and overseeing the judicial affairs process.
"We are excited for Mark to join our Student Affairs team," Assistant Provost for Student Affairs Whitney Daugherty said. "He brings a great deal of experience working with students in and out of the classroom. Mark's experience in higher education will assist the division in achieving our goals of remaining student-focused and helping students navigate a successful college experience."
Zimmerman loves engaging with students and building rapport with them.
"I enjoy getting to know students and the issues they are facing," Zimmerman said. "During this semester, I will be spending time on campus, attending campus events and programs to allow me to meet as many of our students as I can. I would like the Dean of Students Office to have an "open-door" environment. I want to reach out to students to get to know them, so they will feel comfortable coming to our office."
He earned a Master of Arts in Education from Western Kentucky, where he focused on student affairs and higher education. Zimmerman earned his Bachelor of Science degree in history and secondary education from Southern Illinois University.