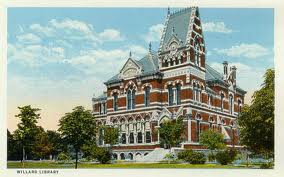 Victorian Christmas Tradition returns to Willard Public Library
Tuesday – December 6
During the Victorian Era in the United States, Christmas celebrations looked different than they do today.  The very wealthy had beautiful, elegant and elaborate celebrations, while those less fortunate created beautiful and memorable Christmas traditions of their own.
Come and learn more about the way Christmas was celebrated in those uncertain days around the Civil war.
5:00-6:00:
Photo op with Father Christmas and Krampus
Live Music
6:00-7:30:
Learn about Victorian Christmas Traditions
Tree Decorating & Refreshments
Registration is requested, as an accurate count is needed for setup.
If you have questions, please contact the Special Collections Department
812-425-4309