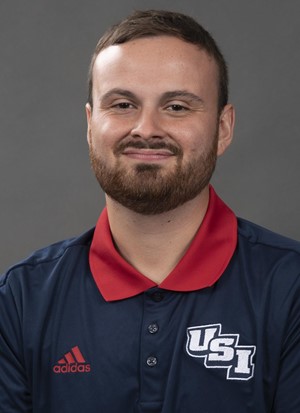 USI Welcomes Leinenbach To Athletic Communications Staff
AUGUST 3, 2022
EVANSVILLE, Ind. – University of Southern Indiana announced the hiring of Preston Leinenbach as an addition to the athletic communications staff. Leinenbach will be the Assistant Director of Athletic Communications, serving as the primary contact for USI Women's Soccer, Women's Basketball, and Softball.
"I'm thrilled to get this opportunity and be a part of something special at USI," Leinenbach said. "I'm ready to get the ball rolling during this exciting time as USI Athletics makes its transition to Division I this year."
"I'm eager to see what lies ahead, building on the long tradition of USI Athletics. I look forward to developing relationships with the rest of the USI personnel, having fans fill the venues, and seeing the teams and student-athletics be successful."
Leinenbach, who is an Evansville, Indiana native, comes to USI after spending five seasons in the front office of the Evansville Otters baseball club at Bosse Field. He was a media relations intern in 2017 before becoming the director of communications in 2018 for the local franchise, which plays in the professional independent Frontier League.
With the Otters, Leinenbach managed the Otters Digital Network and broadcast feeds, while also publishing to the team's social media platforms and website. Along with his multimedia and production work, he handled the team's media relations and assisted with baseball operations.
Additionally, Leinenbach managed media advertising strategies and gameday press box operations.
In 2021, the Otters unveiled a new logo, branding marks, and website under Leinenbach's leadership.
Leinenbach has also worked in Evansville's sports scene doing broadcasting and announcing in previous years with the University of Southern Indiana and the University of Evansville.
Leinenbach graduated from Evansville North High School and received a bachelor's degree in sports communication from the University of Evansville in 2017.