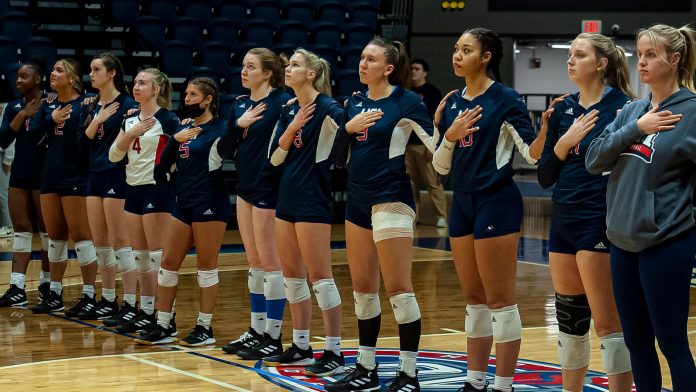 EVANSVILLE, Ind. – University of Southern Indiana Volleyball (1-19, 1-8 OVC) will travel to Little Rock, Arkansas for a battle against the University of Arkansas at Little Rock (4-18, 1-8 OVC) Friday at 6 p.m. and Saturday at 4 p.m. at Jack Stephens Center. The Screaming Eagles and Trojans are both first-year Ohio Valley Conference members and look to keep their postseason hopes alive as they sit in the final two spots of the standings with only the top eight teams making the conference tournament.
 
Game Coverage
Information about USI Volleyball, including live stats, video, and audio broadcasts, is available on USIScreamingEagles.com. 
 
Tickets
Tickets to the USI, Little Rock volleyball match are $7 for general admission. You can purchase tickets online by following this link.
 
Screaming Eagles Headlines:
Eagles Outsoard by Redhawks. The Screaming Eagles lost both matches against Southeast Missouri State last weekend. On the bright side, USI put up 40 or more kills and 30 or more assists in both matches.
You Have To #OVCit. The Eagles are set to face Ohio Valley Conference newcomer, Little Rock, this weekend in Little Rock, Arkansas. This will be the first match between the two programs.
History in the Making. With junior Leah Anderson becoming the 15th player to reach 1,000 kills, her new goal is to become the 13th player to reach the 1,000-dig plateau (992). If successful, Anderson would become the fifth player in program history to reach both milestones. She will join a historic group that includes Shannon Wells, Jamie Roth, Danielle Peter, and Leeanne Gross in the 1,000 kills/1,000 digs club.
Season Leaders. Anderson leads the group with 208 kills and 15 aces as junior Katherine Koch holds a team-high 341 assists. On defense, freshman Keira Moore has received 259 digs as sophomore Paris Downing has earned 60 blocks.
OVC Leaders. There are four Eagles who sit atop the best in five different categories within the OVC individual standings. Anderson ranks eighth in points (241.5) and kills (208) while Koch holds sixth most assists per set (6.31). Moore has tallied 259 digs and 3.92 digs per set, putting her at seventh, while Downing is sixth with 1.03 blocks per set.
Digging Out. The Eagles' defense is third in the conference with 15.42 digs per set. USI also is fifth in total digs with 1,110.
Level 200. Anderson is the lone Eagle to reach 200 kills this season. She is one of nine OVC players to have accumulated 200 kills.
Keeping it 100. Three Eagles have reached the 100-kill club this season. Anderson leads the pack with 208, sophomore Abby Bednar has 167, and sophomore Abby Weber has 153.
Double-Doubles. There have been six Eagles who have reached the double-double mark this season. Anderson leads the team with eight while sophomore Carly Sobieralski has earned five. Koch has tallied four while Weber has recorded three. Bednar has nabbed two while sophomore Evie Duncan earned one.
USI by the Set. This season, the Eagles have accumulated four opening set wins compared to winning 11 sets between frames two through five. USI has lost in the third set 16 times and lost in the fourth set seven times. The Eagles are 0-3 in the fifth frame.
About Little Rock. The Trojans are 4-18 overall and 1-8 in the OVC after winning their first conference match against Morehead State on 10/14, 3-2. Little Rock's defense at the net has been stellar, ranking first in the conference and 69th in NCAA I with 2.34 blocks per set and second in the OVC and 32nd in NCAA I with 180.5 total blocks. The Trojans will face Southeast Missouri State Tuesday night at home before facing the Eagles.
Leading the Trojans. Junior Zanobia Willis sits second in the conference with 1.17 blocks per set and third with 81 total blocks. Leading the passing game is freshman Gabrielle Spankus who is fourth in the OVC with 7.19 assists per set while freshman Daedrianna Cail stands in fourth with a .300 hitting percentage to lead Little Rock. The Trojans' roster consists of nine freshmen and three sophomores with just four upperclassmen.