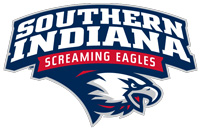 University of Southern Indiana Screaming Eagles student athletes soared in the classroom during 2019-20, posting increases in all Great Lakes Valley Conference academic award categories over 2018-19 and setting a trio of records.
"The number of USI student athletes and teams that are being recognized by the GLVC is truly amazing!" said USI Director of Athletics Jon Mark Hall. "We need to celebrate these scholar athletes while being very thankful for the faculty, staff, and coaches who guide and mentor them.
"What makes setting these records more amazing is the fact that this spring semester was so difficult to navigate as students and faculty due to the emotional stress of the pandemic," continued Hall. "Even though many of our student-athletes' seasons were cut short, they continued to thrive in the classroom."
The Eagles earned a program-record 196 individual 2019-20 GIECO Academic All-GLVC awards, shattering the old record (168) set in 2016-17 and a 24 percent increase over 2018-19.  The Academic All-GLVC honor is bestowed upon student-athletes who complete the two-semester academic year with a 3.30 grade point average (GPA).
A program-record 32 Eagles also earned Brother James Gaffney Distinguished Scholar Awards for completing the academic year with a 4.0 GPA. The 32 awards was a 146 percent increase in 2019-20 from 2018-19.
For those Eagles completing their collegiate careers in 2019-20, USI had 24 senior student-athletes recognized with the Council of Presidents' (COP) Academic Excellence Award, an honor that can only be received once during a student athlete's career. USI fell one award of tying a program record and would have shattered its record for COP Academic Excellence Awards after many spring-sport seniors had eligibility restored due to the COVID-19 pandemic.
To be eligible for the Council of Presidents' Academic Excellence Award, the student-athlete must have competed in the GLVC for a minimum of two years; maintained at least a 3.5 GPA; completed 96 credit hours; and exhausted his or her eligibility.
USI set its second academic record of the year when 11 varsity programs were designated as an GIECO Academic All-GLVC Team with a cumulative 3.3 GPA or better. USI, which had a 22 percent increase in recognized teams over last year, were led by Women's Tennis (3.76); Women's Soccer (3.70); Women's Golf (3.55); Men's Tennis (3.53); Volleyball (3.48); Women's Cross Country (3.47); Women's Basketball (3.45); Men's Golf (3.44); Men's Soccer (3.40); Softball (3.31); and Women's Indoor/Outdoor Track & Field (3.31)
USI's Academic All-GLVC Honorees  * Denotes number of Academic All-GLVC honors
Baseball (17):
Sammy Barnett**
Jacob Bowles (4.0)**
Brady Bowling
Wyatt Daly****
Aaron Euler
Austin Gossman
Jordan Kelly
Bryce Krizan**
Manny Lopez**
Lucas McNew**
Steven Molinet
Austin Moody
Adam North (4.0)**
Trent Robinson
Drew Taylor
Garrett Welch**
Adam Wildeman
Men's Basketball (4):
Braden Fitzjerrells**
Humaad Khan
Joe Laravie
Glen Rouch
Men's Cross Country (15):
Todd Baxter
Nick Dombroski
Ross Ellis
Matthew Everling
Ethan Goddard
Nathan Hall (4.0)****
Wyat Harmon****
Arie Macias**
Taylor Mills
Austin Nolan (4.0)***
Jeffrey Prior
Logan Reid
Grady Wilkinson (4.0) ***
Javan Winders***
Jacob Wisniewski**
Men's Golf (8):
Bell, Trevis
Zach Breault**
Nathan Caudle (4.0)***
Will Giesler
Derek Oxford (4.0)
Carson Pierce
K.O. Taylor
Zach Williams
Men's Soccer (22):
Drew Albert
Zach Barton
Adam Becker****
Ian Bennett**
Justin Brooks****
Jonathan Faas (4.0)****
Justin Faas (4.0)***
Dan Hartman
Luke Lindsay**
Graham Miller
Ryan Nevins**
Adam Newman***
Ryan Olwig
Markus Poulsen***
Justin Raines
Eric Ramirez***
Sean Rickey (4.0)****
Scott Ross
Travis Sides
Colten Walsh**
Brian Winkler
Josef Winkler*
Men's Tennis (5):
Preston Cameron
Parker Collignon (4.0)**
Kooper Falkenstein***
Marvin Kromer (4.0)
Lucas Sakamaki (4.0)
Men's Track & Field (17):
Zach Barton
Cameron Cox
Kyle Crone
Ross Ellis
Matthew Everling
Tyler Garrett**
Ethan Goddard
Zack Gresens
Nathan Hall (4.0)****
Wyat Harmon**
Arie Macias**
Taylor Mills
Tyrell Nickelson***
Austin Nolan (4.0)****
Grady Wilkinson (4.0)***
Javan Winders**
Jacob Wisniewski
Softball (13):
Anna Carroll
Kaitlyn Back (4.0)**
Mary Bean
Julianne Bell**
Elisabeth Brown**
Mikaela Domico**
Allie Goodin**
Jennifer Leonhardt****
Jordan Rager
Taylor Ricketts
Courtney Schoolcraft
Allison Schubert (4.0)****
Alicia Webb**
Volleyball (13):
Leah Anderson
Casey Cepicky
Lauren English
Lizzy Gardner (4.0)***
Callie Gubera***
Sidney Hegg (4.0)
Mikaila Humphrey***
Amanda Jung (4.0)****
Katherine Koch
Taylor Litteken**
Lindsey Stose****
Kelsie Vanitvelt
Alyssa Yochum**
Women's Basketball (8):
Addy Blackwell
Ashlynn Brown
Emma DeHart (4.0)***
Hannah Haithcock
Kiara Moses
Tara Robbe
Morgan Sherwood (4.0)****
Audrey Turner**
Women's Cross Country (13):
Emma Brown**
McKenna Cavanaugh
Jennifer Comastri****
Aubrie Deal
Hadley Fisher
Cameron Hough (4.0)
Hope Jones (4.0) ***
Alexis Laswell
Ashley Lawhorn****
Adele Schnautz
Aubrey Swart
Ellie Tjelmeland****
Megan Wagler
Women's Golf (5):
Grace Davis**
Hannah Herma**
Kaylan Hook**
Kelci Katterhenry
Abbey Leighty**
Women's Soccer (29):
Audrey Andrzejewski
Katlyn Andres**
Morgan Beyer (4.0)
Emilie Blomenkamp**
Megan Brune (4.0)**
Skylar Brant**
Madison Cady **
Caroline Canoy (4.0)***
Madison Crawford
Jill DiTusa
Maya Etienne (4.0)
Rachel Gray**
Taylor Hall
Ashley Hayes**
Natalie Jostes**
Madelyne Juenger**
Kelsey Kandil**
Mary Lippert**
Emma Luczkowski (4.0)**
Taylor McCormick***
Lyndsee Monac**
Gabby Mueller**
Courtney Spicer****
Maddie Spiker
Keely Thompson**
Madeline Weston**
Loryn Willis (4.0)****
Maggie Winter***
Alyssa Wright
Women's Tennis (8):
Shelby Braselton**
Elizabeth Cluck (4.0)
Lauren Hambrock***
Alexandra Jamison****
Lindsey McCord (4.0)**
Chloe McIsaac (4.0)
Jasmine Shireman
Kylie Skepnek (4.0)**
Women's Track & Field (19):
Emma Brown**
Jennifer Comastri**
Aubrie Deal
Hadley Fisher
Dakota Gates**
Katelyn Grell
Cameron Hough (4.0)
Hope Jones (4.0)****
Ashley Lawhorn****
Chessa Mitchell
Emily Papandria
Mariah Paris
Brenna Rainey
Adele Schnautz
Morgan Sherwood (4.0)**
Rylie Smith**
Aubrey Swart
Ellie Tjelmeland***
Megan Wagler
Brother James Gaffney Distinguished Scholar Award (32):
Jacob Bowles, Baseball
Adam North, Baseball
Nathan Hall, Men's Cross Country/Track & Field
Austin Nolan, Men's Cross Country/Track & Field
Grady Wilkinson, Men's Cross Country/Track & Field
Derek Oxford, Men's Golf
Nate Caudle, Men's Golf
Jonathan Faas, Men's Soccer
Justin Faas, Men's Soccer
Sean Rickey, Men's Soccer
Parker Collignon, Men's Tennis
Marvin Kromer, Men's Tennis
Lucas Sakamaki, Men's Tennis
Emma DeHart, Women's Basketball
Morgan Sherwood, Women's Basketball/Track & Field
Kaitlyn Back, Softball
Allison Schubert, Softball
Lizzy Gardner, Softball
Sidney Hegg, Softball
Amanda Jung, Softball
Cameron Hough, Women's Cross Country/Track & Field
Hope Jones, Women's Cross Country/Track & Field
Morgan Beyer, Women's Soccer
Megan Brune, Women's Soccer
Maya Etienne, Women's Soccer
Caroline Canoy, Women's Soccer
Emma Luczkowski, Women's Soccer
Loryn Willis, Women's Soccer
Elizabeth Cluck, Women's Tennis
Chloe McIsaac, Women's Tennis
Lindsey McCord, Women's Tennis
Kylie Skepnek, Women's Tennis
Council of President's Academic Excellence Award (24):
Morgan Sherwood, Women's Basketball/Track & Field
Emilie Blomenkamp, Women's Soccer
Emma Luczkowski, Women's Soccer
Courtney Spicer, Women's Soccer
Loryn Willis, Women's Soccer
Adam North, Baseball
Adam Becker, Men's Soccer
Jonathan Faas, Men's Soccer
Adam Newman, Men's Soccer
Markus Poulsen, Men's Soccer/Track & Field
Sean Rickey, Men's Soccer
Lauren Hambrock, Women's Tennis
Alex Jamison, Women's Tennis
Ashley Lawhorn, Women's Cross Country/Track & Field
Ellie Tjelmeland, Women's Cross Country/Track & Field
Rylie Smith, Women's Track & Field
Braden Fitzjerrells, Men's Basketball
Lizzy Gardner, Volleyball
Mikaila Humphrey, Volleyball
Amanda Jung, Volleyball
Nathan Hall, Men's Cross Country/Track & Field
Austin Nolan, Men's Cross Country/Track & Field
Jennifer Leonhardt, Softball
Allison Schubert, Softball
Team GPA Awards (11):
Softball 3.31
M. Golf 3.44
Volleyball 3.48
W. Basketball 3.45
M. Soccer 3.40
M. Tennis 3.53
W. Golf 3.55
W. Soccer 3.70
W. Tennis 3.76
W. Cross Country 3.47
W. Track & Field 3.31