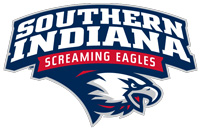 University of Southern Indiana men's and women's basketball unveiled their 2020-21 schedule today. The COVID-19 adjusted slate will feature 22 Great Lakes Valley Conference men's and women's doubleheaders, 11 to be played in the Screaming Eagles Arena.
The 15-team GLVC will be divided into three divisions during 2020-21 with USI residing in the East Division that also includes Lewis University, the University of Indianapolis, University of Illinois-Springfield, and McKendree. The 2021 GLVC Men's and Women's Basketball Championship Tournament is scheduled March 4-7 at an undetermined site and will feature the top eight teams based on the GLVC's Point Rating System.
The Central Division consists of Quincy University, the University of Missouri-St. Louis, Maryville University, Lindenwood University, and Truman State University. The West Division is comprised of William Jewell College, Rockhurst University, Southwest Baptist University, and Missouri University of Science & Technology.
Each team will play a home-and-home series with every divisional opponent and four random non-divisional opponents, while playing the remainder of the non-divisional opponents once.
"Like everything else in the world around us, the scheduling process has been very different this year," said USI Director of Athletics Jon Mark Hall. "We looked and talked about many different scenarios and I am happy with the way the administrators, the conference office and coaches have worked together to get to this point.
"We all know things are very fluid right now, but we feel very comfortable with the result of the process," concluded Hall.
The Screaming Eagles tip off the campaign with a five-game homestand, beginning November 27 versus Rockhurst, which is one of the eight home-and-home series on the schedule. The season-opening homestand includes William Jewell (November 29), Illinois Springfield (December 3), Lewis (December 5), and McKendree (December 12).
The remainder of the 2020-21 home schedule includes UIndy (January 16), Quincy (January 28), Truman State (January 30), Drury (February 13), Lindenwood (February 25), and UMSL (February 27). The USI-UMSL match-up is Senior Day for the Eagles.
In addition to visiting divisional opponent UIndy (December 20), McKendreee (January 9), Lewis (January 21), and Illinois Springfield (January 23), the Eagles visit Truman State (January 3), Quincy (January 6), William Jewell (February 4), and Rockhurst (February 6) to complete home-and-home series. The remainder of the non-divisional road games includes Southwest Baptist (February 11), Missouri S&T (February 18), and Maryville (February 20).
USI Men's Basketball will enter the 2020-21 campaign in search of its third-straight berth in the NCAA II Tournament and remains the defending NCAA II Midwest Region champion. New USI Head Coach Stan Gouard comes home to the program this year and returns first-team All-GLVC senior forward Emmanuel Little and second-team All-GLVC guard Mateo Rivera from an Eagles team that was 22-8 last year.
"I fully support this one-year adjustment to a conference-only basketball schedule due to COVID-19 and applaud our leaders for finding the right balance between providing opportunities for our student-athletes and necessary changes for the safety and well-being of our student athletes, coaches, and administrators," said Gouard. "The student athletes are excited about this announcement and are working hard in preparation for a great season.
"The only way for us to be our best is to play against the best, which is what the GLVC offers," continued Gouard. "Our goal is to win championships at the GLVC, region, and national levels and we are going to have to beat some great teams along the way. I believe our GLVC schedule is going to teach us exactly how to do that."
USI Women's Basketball will tip off the all-GLVC campaign in search of its second-straight berth in the NCAA II Tournament. USI Head Coach Rick Stein had the Eagles rolling at the end of last season, winning seven of the last nine games to finish 18-9 before the NCAA II Tournament was canceled. The Eagles will feature senior guard Emma DeHart, who was second-team All-GLVC, and sophomore forward Hannah Haithcock, who was GLVC All-Freshman, in 2020-21.
"We are extremely excited to see our schedule finalized and ready to go," said Stein. "The schedule, obviously, will be very tough from start to finish with all 22 games being played against GLVC opponents.
"Our team has been working very hard here in the preseason, and we are looking forward to the start of official practices on October 15," concluded Stein.
The 11-game home schedule is currently slated to be without Eagle fans in attendance as a precaution against the spread of COVID-19. Fan attendance will be re-evaluated throughout the remainder of the 2020-21 schedule.
"USI and the GLVC made the decision that our men's and women's basketball games will be conducted with essential personnel only until further notice," said Hall. "If things change, our students and season ticket holders will be made aware through direct communications and our social media platforms," continued Hall. "USI Athletics truly appreciates everyone's understanding and continued support. We really look forward to the time when we can fill the Screaming Eagles Arena once again!"