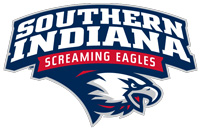 EVANSVILLE, Ind. – University of Southern Indiana Men's Soccer returns home to Strassweg Field this week as they welcome in Western Illinois University on Wednesay, October 26, with a 7pm kickoff. This is the first of the Screaming Eagles final two home matches of the season. USI will host St. Thomas University in the home finale on November 2 at 2pm.
The Eagles defense played well against Lindenwood University through the first 45 minutes of the match on Sunday. But after losing a key piece in their midfield in freshman Will Kirchhofer (Fishers, Indiana), after he was sent off after receiving his second yellow card of the day, just a few minutes into the second half the Eagles couldn't hold off the Lions any longer. Lindenwood would go on to score back-to-back goals just a minute and 15 seconds a part to take down the Eagles 2-0. USI was outshot 18-9 in the match and had nine different players finish with a shot attempt. This was the seventh straight game allowing double-digit shot attempts and fourth straight allowing 18 or more.
The USI offense has struggled this season to put the ball into the back of the net. The team has scored just 10 goals this season and has gone back-to-back games without scoring a goal for the second time this season. The Eagles have only put-up multiple goals twice this season, once when they were ahead on Norther Kentucky University before allowing three goals and once against Eastern Illinois University when they came from behind to earn their first win of the year. The USI offense has also struggled to get shots off as well. It wasn't until their last match against Lindenwood that the team got over 100 shots on the season, and they have only managed double-digit shots three times this season. There are only two players with double-digit shots on the season junior Zach Barton (St. Louis, Missouri) with 19 and freshman Ednilson Voiles (Jeremie, Haiti) with 10, but they have a combined two goals. The Eagles have three players leading the team in goals as graduate Nick Faddis (St. Louis, Missouri), senior Ryan Nevins (St. Peters, Missouri), and sophomore Sam Benoist (Foristell, Missouri) all have two goals apiece.
It was looking like the USI defense was starting to come together and find its place. Going a streak of seven games allowing two goals or less. The Eagles have been involved in every one of these games, two of them resulting in draws and one resulting in a win. One of the two draws even came in a shutout against crosstown rival University of Evansville. Since that streak ended the Eagles have been outscored 12-1 in their last three matches. In those matches, junior goalkeeper Alec Meissner (St. Charles, Missouri) has faced 66 shots and made 19 saves.
Head Coach Mat Santoro has been very consistent with his starting lineups this season. In the teams 14 matches this season eight outfield players have started double-digit matches for the team. Only four of those outfield players have started in every match they have played. Senior Colten Walsh (St. Louis, Missouri), Faddis, and Kirchhofer have all started every math for the Eagles this season while Voiles has played and started in 13 matches, missing the Chicago State match.
Summit League
Summit League play continued this week with four games across the two days. The University of Missouri-Kansas City took down Eastern Illinois 1-0 in Charleston, Illinois. Western Illinois vaulted their way up the Summit League standings with a win over St. Thomas, 1-0. In a battle between teams at the top of the conference, Oral Roberts University took down the University of Nebraska Omaha, 1-0. Lindenwood was victorious on Sunday over USI, 2-0. Conference play continues on Wednesday as USI hosts Western Illinois and Omaha hosts Lindenwood. The week finishes off on Saturday with four conference matches throughout the day. With the early kickoff the University of Denver heads to Eastern Illinois while Lindenwood travels to St. Thomas. Western Illinois hosts Oral Roberts for an afternoon kickoff. Omaha and UMKC finish of the day with a nightcap in Kansas City, Missouri.
Western Illinois Leathernecks
Western Illinois comes into the match with USI with a 2-6-6, 2-1-2 Summit League, record after beating St. Thomas on Saturday 1-0. The Leathernecks are on a four-match unbeaten streak. Muazu Sagir and Kyle Owen both lead the team with three goals each while Sagir leads the team in assists as well with four. Arian Mehrang ledas with 23 shots on the year while Sofian Maghouz has nine shots on goal. Alex Flowers has started every match in net for Western Illinois and has allowed 18 goals and mad 56 saves while facing 182 shots. The Leathernecks are being outscored 18-13 this year while also being outshot 182-154. Western Illinois currently sits fifth in the Summit League with three matches left. They will host Oral Roberts and travel to Denver to finish their season.