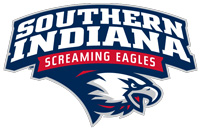 University of Southern Indiana's Titus Winders and the men's distance squad put on a show at the UAB Vulcan Invite held in Birmingham, Alabama Saturday.
Tyler Garrett kicked things off for the Screaming Eagles in the 800m finals where he finished fifth with a time of one minute and 58.3 seconds.
The Winders' brothers, Titus (4:10.94) and Javan (4:22.58); kept the momentum going for the Eagles in the mile where they finished second and seventh respectively. Titus's mark in the mile was narrowly good enough for a NCAA II provisional mark, which is 4:11.24. Titus is currently the fifth fastest man in the mile for NCAA II after Saturday's performance.
The 3000-meter final capped off what was a spectacular showing from the Eagles altogether as they claimed the top six spots out of seven and nine out of the top 15. Austin Nolan (8:30.51), Wyat Harmon (8:37.11) and Gavin Prior swept the top three places respectively. Cameron Cox (8:55.90) came in fifth place with Matthew Scales (8:59.29) and Matt Everling (9:00.48) rounding out the top seven.
Up Next: The USI Men's Track and Field team returns to competition on Jan. 18 at the John Craft Invitational held in Charleston, Illinois.