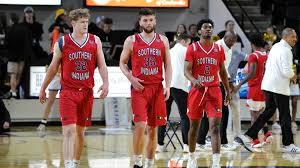 USI Men's Basketball Reveals 2023-24 Non-Conference Schedule​​​​​​​
EVANSVILLE, Ind. – The University of Southern Indiana Men's Basketball revealed its 2023-24 non-conference schedule, beginning with a visit to Saint Louis University on November 6. The 2023-24 home opener is slated for November 12 when USI hosts Chicago State University for the first of 14 contests at Screaming Eagles Arena this year.
"We are fired up to announce our very challenging schedule," said USI Head Coach Stan Gouard. "We must be ready to compete at a high level out of the gate as we travel to play against great teams and programs on the road.
"After a long 2022-23 season, we are thrilled to welcome our fans back to Screaming Eagles Arena for the upcoming season to celebrate year two as a Division I program," continued Gouard. "We look forward to protecting our home court and treating our fans to this great schedule, terrific promotions, and great basketball."
In addition to the Chicago State home opener, the 2023-24 home non-conference schedule includes Tiffin University (November 14), East/West University (November 28), Bowling Green State University (December 2), Purdue University Ft. Wayne (December 6), and the University of St. Francis (Illinois). The home portion of the Ohio Valley Conference schedule features Tennessee State University (January 4), Tennessee Tech University (January 6), the University of Arkansas at Little Rock (January 18), Morehead State University (January 19), Western Illinois University (January 25), Eastern Illinois University (February 8), Southern Illinois University Edwardsville (February 10), Lindenwood University (February 29), and Southeast Missouri State University (March 2).
The Screaming Eagles have a very challenging road slate following the season-opener at St. Louis. USI follows up the trip to Michigan State University (November 9) before starting play in the three-game Blue Devil Challenge with a visit to La Salle University (November 18). The finals two games of the Blue Devil Challenge contain a visit to Bucknell University (November 20) and Duke University (November 24).
Following the first of two three-game homestands, the Eagles make trips to Indiana State University (December 9). The final non-conference game of 2023-24 has USI traveling to Southern Illinois University (December 22) before the holiday break.
In OVC play, this year's conference road slate includes stopovers at SEMO (December 29), Lindenwood (December 31), SIUE (January 11), Tennessee Tech (February 1), Tennessee State University (February 3); University of Tennessee at Martin (February 15); Little Rock (February 17), Morehead State (February 20), and Western Illinois (February 24).
In the history of the USI Men's Basketball program, the Eagles are 101-61 all-time versus the 2023-24 opponents. USI also has a 95-61 regular season mark against its upcoming Division I opponents – (0-1 vs. Chicago State; 1-3 vs. Southern Illinois University; 1-3 versus Western Illinois; 25-14 vs. Ft. Wayne; 1-0 vs. Bowling Green; 3-4 vs. SEMO; 3-2 vs. Eastern Illinois; 45-22 vs. SIUE; 4-5 vs. UT Martin; 6-0 vs. Lindenwood; 4-2 vs. Tennessee State; 0-2 Tennessee Tech; 1-1 vs. Little Rock; 0-2 vs. Morehead State). The Eagles will be playing seven teams on the schedule for the first time in the history of the program.
For the complete 2023-24 USI Men's Basketball schedule, visit USIScreamingEagles.com. Information on USI Men's and Women's Basketball season tickets can be found at USIScreamingEagles.com/tickets.
If you would rather not receive future communications from the University of Southern Indiana, let us know by clicking here.
University of Southern Indiana, 8600 University Boulevard, Evansville, IN 47712 United States