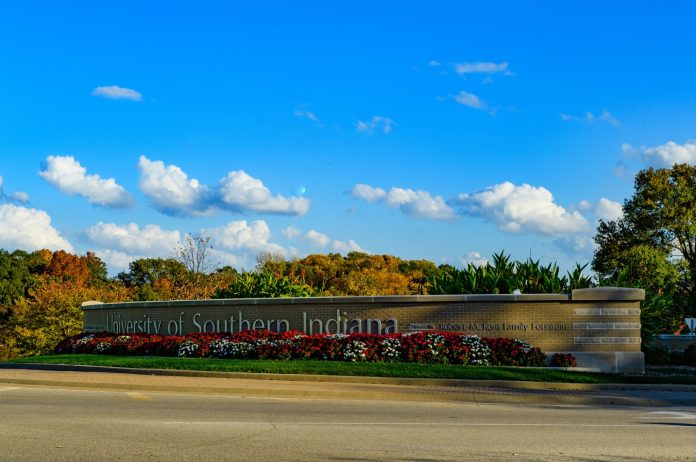 USI honored award recipients at the annual Founders' Day Luncheon
The University of Southern Indiana Alumni Council honored the founding figures of the institution and recognized its three highest award recipients at its annual Founders' Day Luncheon on Wednesday, September 13 in Carter Hall on the USI campus.
"Fifty-eight years ago, the University of Southern Indiana emerged with determination and courage," says Dr. Ronald S. Rochon, USI President. "Our persistence and intentional efforts have propelled USI to the forefront of higher education, boldly shaping the future and enriching the lives of our students. I am confident we will continue to positively impact our region, state, nation and globe."
The event featured remarks from Rochon, a tribute to USI founders and reflection delivered by Taylor A. Barrett '24, and the presentation of three major awards: the Alumni Service Award, the Honorary Alumni Award, and the Faculty Recognition Award.
Alumni Service Award 
The recipient of the 2023 Alumni Service Award is Ronald J. Boren '81. After he graduated from USI with a bachelor's degree in business administration, Boren began his career as a Financial Advisor with Hilliard Lyons. His USI journey was not the standard one, though—it took him seven years to complete his degree. When he started at USI, he found a job at a local clothing store where he went on to become manager. His part-time status turned full-time, forcing him to attend USI part-time.
Today, he's the Managing Director/Financial Advisor for the Boren Bernardin Schiff Group at Baird. Alongside his professional journey advancing over the years, Boren's bond with the University deepened.
His commitment to his alma mater began with assisting a client in establishing a scholarship to benefit the University and its students. This dedication led Boren to becoming Director of the USI Foundation Board in 2007. As Treasurer (2012-13) and Secretary (2018-22), he actively contributed to USI's growth and continues to do so today.
Boren's passion for USI stems from his own experiences at the University. He has championed students' aspirations through various initiatives, including supporting USI student-athletes as a long-time basketball season ticket holder and contributing to the USI Varsity Club and its various fundraising initiatives.
When the Screaming Eagles Complex opened in 2021, he provided funding for The Screaming Eagle, a 12.5-foot-tall, aluminum sculpture depicting USI's Athletic logo. The sculpture provides a landmark for USI fans to gather before events in the Screaming Eagles Arena and as a backdrop for students and alumni to highlight their school spirit.
Boren and his wife, Terry, reside in Evansville and enjoy spending time with their three children and three grandchildren. He remains close to his USI Alpha Omega Psi fraternity brothers and is involved with the West Side Nut Club.
Honorary Alumni Award 
The recipient of the 2023 Honorary Alumni Award is Neal A. Franklin. Franklin grew up in upstate New York, studying political science and French at Vassar College. Franklin and her husband, Dr. Joseph "Jef" Franklin (1941-2022), moved to Evansville in 1975 after he accepted a position at the Welborn Clinic.
The Franklins' connection with USI began in 1992 after Richard E.S. Diggs, former USI Varsity Club President, introduced the couple to Bruce Pearl, former USI Men's Basketball Head Coach. After becoming avid USI Basketball supporters, they then became supporters of academics, especially the arts.
In March 2023, Franklin, a member of the USI Board of Directors and former Chair of the USI Society for Arts and Humanities, made a generous gift of $25,000 to underwrite the University's Art Collection Digitization Project. The Project is digitizing USI's expansive art collection, extending its reach beyond in-person visitors to a virtual, global audience. Franklin also has an estate gift in place to support USI Theatre.
In recognition of her leadership and dedication, Neal received the USI Foundation Suzanne A. Nicholson Leadership Award in 2019, an honor bestowed upon individuals who exemplify strong leadership in advancing the USI Foundation mission. Beyond her involvement with the University, Neal has been a prominent figure in the Evansville Philharmonic Orchestra and its Guild, the Public Education Foundation and the Women's Fund of the Vanderburgh County Community Foundation, among other organizations.
Faculty Recognition Award  
The recipient of the 2023 Faculty Recognition Award is Dr. Kent W. Scheller, Professor of Physics. Scheller joined the University community in 1999 as Assistant Professor of Physics and presently serves as Professor of Physics.
Over the last 24 years, he has played a pivotal role in the shaping and sustaining of physics curricula. From Physics 101 tailored to non-majors to upper-level physics offerings designed for majors, Scheller is known for his ability to not only teach intricate physics concepts, but also to convey them with enthusiasm, fostering strong connections and rapport with students.
Currently, Scheller is serving as Chair of USI's Solarpalooza Eclipse Steering Committee, planning a wide variety of events, resources and activities in celebration of the Total Solar Eclipse, happening April 8, 2024, of which the University is in its path of totality.
From 2011-13, he served as a member on the 14-member Indiana Commission for Higher Education where he collectively represented the interests of faculty at public-supported Indiana higher education institutions. Scheller is also a recipient of the 2023 Dr. Jane Davis-Brezette Faculty Excellence Award, 2014 USI Distinguished Professor Award, 2012 Pott College Excellence in Service Award, among others.
He served as Vice-Chair for USI Faculty Senate, Chair for the University New Program Development, Chair for the University Faculty Affairs Committee, among other roles. In the community, he has served as President for the South Gibson School Board of Trustees and the Haubstadt Chamber of Commerce; Chair of the Saints Peter and Paul Catholic Church Finance Committee, School Board, and Parish Council; Co-Chair of the Saints Peter and Paul Catholic Church capital campaign, raising over four million dollars to enhance the parish campus; as well as coached multiple youth athletic teams.
Scheller earned his bachelor's degree from the University of Evansville in 1988, and a master's degree in physics in 1991 and doctorate degree in nuclear physics in 1994, both from the University of Notre Dame.
USI Founders' Day celebrates the founding of USI and those in the 1960s who had the vision for public higher education in southern Indiana. The annual event honors the pivotal role those early USI leaders played in the birth of the institution. The event also provides an opportunity to recognize the achievements of the many people who have helped build the University.
For more information about USI Alumni Engagement and Volunteer USI, visit USI.edu/alumni or contact Janet Johnson, Director of Alumni Engagement and Volunteer USI, at jljohnson@usi.edu.
###
FOOTNOTE:  Founded in 1965, the University of Southern Indiana enrolls nearly 9,200 dual credit, undergraduate, graduate and doctoral students in more than 130 areas of study. A public higher education institution, located on a beautiful 1,400-acre campus in Evansville, Indiana, USI offers programs through the College of Liberal Arts, Romain College of Business, College of Nursing and Health Professions and the Pott College of Science, Engineering, and Education. The University offers study-abroad opportunities in more than 60 countries and hosts international students from around the globe. USI is a Carnegie Foundation Community Engaged University and offers continuing education and special programs to more than 15,000 participants annually through Outreach and Engagement. USI is online at USI.edu.