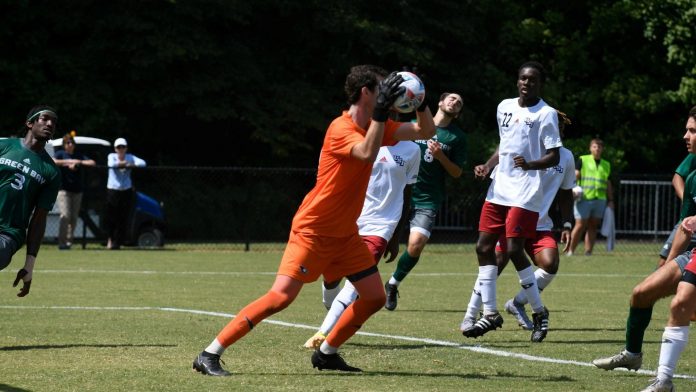 EVANSVILLE, Ind. – University of Southern Indiana Men's Soccer and Chicago State University came to a draw on Saturday, 1-1. After both goals were scored in the first half, both teams fought through the second half with nothing to come out of it. The Screaming Eagles move to 0-6-2 on the year while the Cougars go to 1-5-3.
 
USI got things going early in the match, Zach Barton (St. Louis, Missouri) scored a beautiful shot assisted by Nick Faddis (St. Louis, Missouri) in the fifth minute to give the Eagles the early lead. Chicago State was able to equalize in the at the 28:05 mark on a goal from Jethro Yumange with the assist from Danail Sergiev.
 
Both teams played a tough second half, going back and forth the whole time. While the Cougars outshot the Eagles 12-9, it was a slimer 6-5 advantage in shots on goal. It was a physical match for both teams, with six combined yellow cards given and 23 total fouls committed.
 
Barton had a team high, and season high, five shots for USI and a team and season high three shots on goal. Four other Eagles each had one shot each with Damian McGregor-Wickham (Toronto, Canada) and Faddis having the other two shots on goal. Alec Meissner (St. Charles, Missouri) allowed just the one goal, his third time this season allowing one goal or less, he also made four saves on 12 shots faced.
 
UP NEXT FOR USI:
The Eagles finish off the homestand on Wednesday, September 28th, as they open up Summit League play hosting the University of Missouri-Kansas City at Strassweg Field with a 7pm kickoff. This will be the first matchup for the two schools since 1992.
 
The Roos come into the match 2-3-1 and are hosting Lindenwood University on Saturday. Missouri-Kansas City comes into the season picked to finish fourth in the Summit League after finishing in fourth last season with a 3-7-5 (2-2-2 Summit) record.