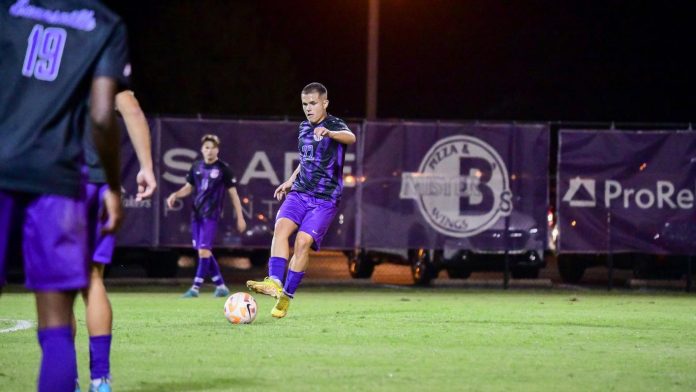 The Aces will play only their third program game against the Huskies on Saturday
EVANSVILLE, Ind. — The University of Evansville men's soccer team gets to play its first home match of the Missouri Valley Conference (MVC) season against a new conference opponent.
The Aces return to conference play this weekend as they welcome Northern Illinois to Arad McCutchan Stadium for the first time in six years. NIU is a new addition to the Valley in men's soccer in 2023. In the team's previous meetings, the Aces picked up two wins four years apart. UE has only played the Huskies twice in program history and has a 7-3 goal advantage.
On Tuesday night Evansville held the No. 10 team in the nation scoreless for 78 minutes in a close 2-0 loss to Louisville. A goal in the final 15 minutes of play broke the scoreless tie towards Louisville. It was the first game all season the Aces were shut out by an opponent. UE has averaged 1.63 goals per game with their highest output coming against Southern Indiana with 4 goals.
The Huskies come into Saturday's game with a 2-5 record, recording wins against Western Illinois and Aurora (Division III). NIU's lone MVC game so far was a loss to No. 9 Missouri State last weekend. The Huskies were shut out by the Bears 3-0 for only their second game not finding the back of the net. Northern Illinois is led on the field by junior forward Taisei Arima and senior midfielder Eddie Knight with seven points each. Knight leads the team in goals along with fellow midfielder Camilio Estrada with three goals.
Evansville defender Nacho Diaz-Caneja is currently on a seven-game shot streak, recording one in all but his first game as a Purple Ace. Of the seven games, Diaz-Caneja has put a shot on goal in 4. UE's most accurate player midway through the season is midfielder Carlos Barcia, putting 85.7% of his shots on target while midfielder Jose Vivas leads the team in shots with 14. The Aces' other shots leader, forward Nacho Diaz Barragan, has been sidelined for the foreseeable future with a meniscus tear.
UE will be celebrating Family Weekend on Saturday afternoon. Kick-off from McCutchan Stadium on the 23rd is set for 7 p.m.