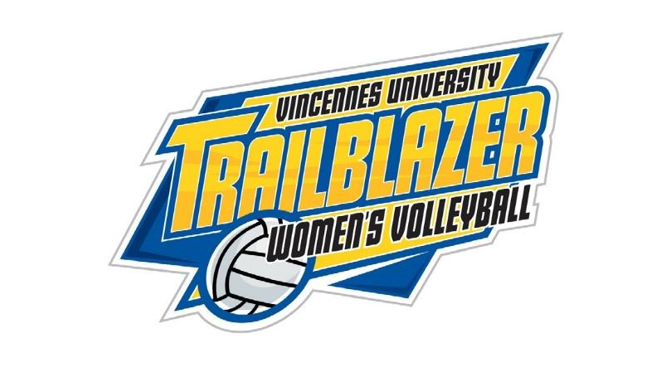 CARTERVILLE, Ill. – The Vincennes University Trailblazer volleyball team extended their 17-game Region 24 winning streak Wednesday night with a three-set sweep of John A. Logan 25-17, 25-21, 25-22.
Set one began as a back-and-forth battle with the two teams trading points for most of the set until the Trailblazers used a 4-0 scoring run to take a 19-13 lead.
VU would close out the set strong, using a 3-0 scoring run to extend the lead and take the opening set 25-17.
The Trailblazers carried this momentum into the second set when Vincennes opened on an 8-0 scoring run behind the serving of sophomore setter Hannah Graber (Montgomery, Ind.)
Vincennes would grow their lead to 10 in the second set before the Lady Volunteers battled back with three separate 4-0 scoring runs.
VU would manage to hold on and take the second set however, with the Blazers coming away with the 25-21 set win and holding a 2-0 match lead.
Vincennes again grabbed an early lead in set three but John A. Logan did not go away quietly with the Lady Vols battling back to cut the deficit to one point at 21-20.
The Trailblazers would go on to take four of the next six points to close out the third set and the match over John A. Logan 25-22.
Vincennes was led offensively by sophomore Malgorzata Banasiak (Gdynia, Poland) who finished with seven kills on the night.
Freshman Paige Parlanti (Las Vegas, Nev.) finished closely behind with six kills on the match, while also adding seven digs, a pair of blocks and a pair of aces.
Freshmen Alexis Chrappa (Effingham, Ill.), Tuana Turhan (Ankara, Turkey) and sophomore Hannah Graber each finished with four kills.
Chrappa added three blocks and Turhan finished with a team-high five blocks, three digs and two aces. Graber also led the Blazers with 11 set assists and three aces, while also adding five digs.
Freshmen Audrey Buis (Franklin, Ind.) and Nisa Salis (Ankara, Turkey) round out the VU offense with Buis finishing the match with three kills and a block and Salis finishing with two kills and a block.
Freshman setter Maecy Johnson (Chrisman, Ill.) ended her night with nine set assists and freshman libero Morgan Netcott (Montague, Mich.) led the Blazers with 10 digs.
Sophomore Lara Gomes de Castro (Sao Paulo, Brazil) finished out the VU box score with five digs on the night.