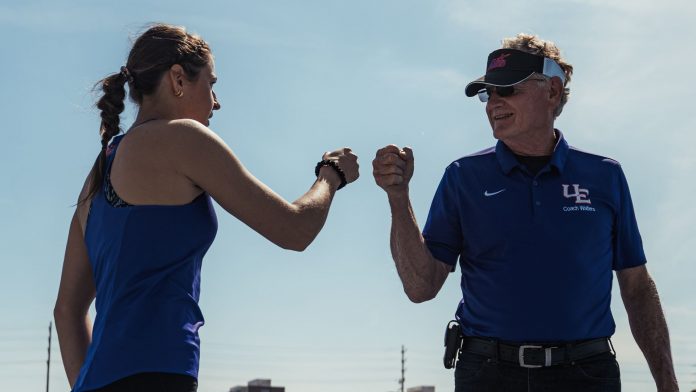 EVANSVILLE, Ind. – The University of Evansville track and field teams will head west to Des Moines, Iowa this weekend to take part in the 2022 Missouri Valley Conference Outdoor Track & Field Championships.  The MVC Championships kick off on Friday morning at 10 a.m. with the multi-events competitions at Drake Stadium, and will continue on both Saturday and Sunday.
The Purple Aces will head to the Valley Championships off of a track season in which UE has set over 16 school records and 135 personal-best marks.  UE has set at least four personal-best marks on every day of competition this season between both indoor and outdoor track season, and the Purple Aces have set a school record in nine of their 10 combined indoor and outdoor meets this spring.
"This track season has been fun to watch the growth," said UE head coach Don Walters.  "To see over 16 school records broken and 135 personal-best marks set is amazing.  That has been our goal and our focus all year long, and it has been fun as a coach to see that hard work pay off for the various student-athletes."
Junior thrower Zach Dove (Princeton, Ind./Princeton Community) has helped lead UE's record-breaking charge, as he has set a school record five different times this spring.  Dove broke the indoor weight throw record in the winter, and has broken the hammer throw record three times and broke the discus record in UE's last meet at the Sycamore Open in Terre Haute on April 30.  It comes as part of a season in which he has added almost 10 meters to his hammer throw marks from previous years.
From a Valley perspective, UE has four individuals ranked in the Valley's Top 10 entering the championships.  Senior Joey Rucinski (Ft. Wayne, Ind./Concordia Lutheran) ranks the highest of any Purple Ace, ranking fifth in the conference in the decathlon, having posted a school-record score of 5,906 already this season.  Freshmen Preston Riggs (Ft. Branch, Ind./Gibson Southern) and Denzel Lasam (St. Louis, Mo./De Smet Jesuit) both rank eighth in the Valley in the decathlon and triple jump events, respectively, while Rucinski also ranks 10th in the Valley in the pole vault.  Graduate student Anna Lowry (Taylorville, Ill./Taylorville) is also the reigning MVC champion in the 10,000-meter event.
The Missouri Valley Conference Championships will also mark the end of an era at Evansville, as it will mark the final meet as head coach for Don Walters.  Walters began coaching cross country at UE in May, 2000 and has served as the cross country coach for the last 23 seasons.  He also was a driving force behind Evansville bringing back the track and field program in 2018, after it was dormant for over 33 years.
"It really doesn't seem like it has been 23 years, as I have really enjoyed my time at UE," said Walters.  "Hopefully, we can go out and set some more school and personal records this weekend and go out the right way."
The MVC Championships will be streamed on ESPN3.