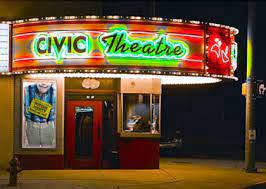 "Tick, Tick … Boom" TO OPEN CIVIC'S LAST SEASON AT OUR FULTON STREET  HOME

Book, Music, and Lyrics by Jonathan Larson

Directed by Managing Artistic Director, Kevin Roach

STORY
Before Rent, there was Tick, Tick… Boom!. This autobiographical musical by Jonathan Larson, the Pulitzer Prize- and Tony Award-winning composer of Rent, is the story of a composer and the sacrifices that he made to achieve his big break in theatre. Containing fourteen songs, ten characters, three actors and a band, tick, tick… Boom! takes you on the playwright/composer's journey that led to a Broadway blockbuster.
His girlfriend wants to get married and move out of the city, his best friend is making big bucks on Madison Avenue and, yet, Jon is still waiting on tables and trying to write the great American musical. Set in 1990, this compelling story of personal discovery is presented as a rock musical filled with instantly appealing melodies and a unique blend of musical theatre styles.
*This show does contain some minor use of adult language that may not be suitable for children.
PERFORMANCES
August 26, 27, 28*
September 2, 3, 4*
Friday & Saturday- 7:30 PM
*Sunday- 2:00 PM
TICKETS

Cost is $15.00 (+ a small processing fee), available at: www.evvcivic.org  and  (812) 425-2800
ADDITIONAL DETAILS
**As of this time, we have lifted our seating and mask restrictions.
Please note that this could change, should COVID infection numbers begin to rise again in our area.