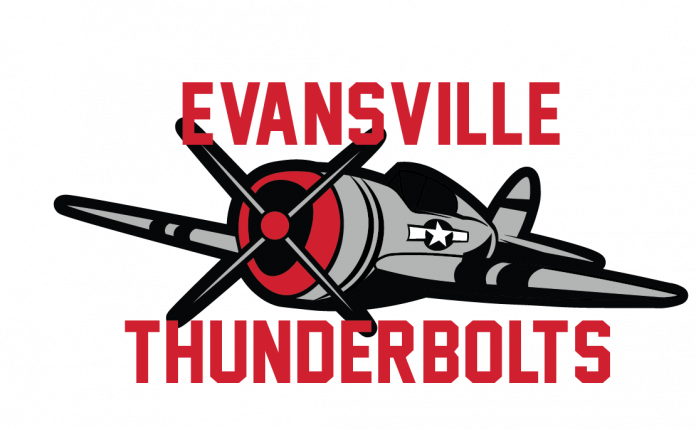 Pensacola, Fla.:  Despite outshooting the Ice Flyers for a second-consecutive night, the Thunderbolts offense was again held to a single goal, as the Ice Flyers defeated Evansville 4-1 on Sunday afternoon at Pensacola Bay Center.  The Thunderbolts' next home game will be on Saturday, April 1st  against the Knoxville Ice Bears at 7:00pm CT.  For tickets, call (812)422-BOLT (2658), go to EvansvilleThunderbolts.com, or visit the Ford Center Ticket Office.
Pensacola grabbed the game's first lead at the 5:00 mark, as Sean Gulka scored on an early power play.  In response, Jeremy Masella tied the game with a power play goal from Felix Sasser to tie the game up at 18:47.  However, Pensacola struck back only 18 seconds later, as Mitch Atkins gave Pensacola a 2-1 lead at 19:05.  After a scoreless second period, Pensacola capitalized on a penalty shot as Malik Johnson scored at 9:12 to make it 3-1 Pensacola.  In the final minute, Garrett Milan scored into an empty net to make it a 4-1 game at 19:11.
Masella scored Evansville's lone goal, while Zane Steeves stopped 18 of 21 shots.  The Thunderbolts remain in 5th place in the SPHL standings but are still within reach of Roanoke in 4th place, at which a finish in 4th place or higher would secure home-ice advantage in the first round of the playoffs next month.  The Thunderbolts and Ice Flyers do not meet again this regular season.
Individual game tickets and group packages are on sale for this 2022-23 season.  Season tickets for the 2023-24 season are now on sale as well.  Call 812-422-BOLT or visit our all-new website (www.evansvillethunderbolts.com) for details.
About Evansville Thunderbolts: The Evansville Thunderbolts is the area's only professional hockey team. The Thunderbolts are a proud member of the Southern Professional Hockey League (SPHL). The team is owned and operated by VW Sports, L.L.C, a subsidiary of VenuWorks, Inc.